Managing your Multilingual Website with Ektron 8.5 CMS
GPI has long been a partner with Ektron, and Ektron is one of the most popular CMS choices to drive scalable, multilingual websites that must be deployed on a global basis. This blog covers some of the exciting new features in Ektron 8.5.
Fallback locales, localization include and exclude control and translation of managed assets are just a few of the exciting new features covered here. Read on and discover the many ways that Ektron 8.5 can help streamline and improve your website localization process.
1. Translation Packages
Ektron introduced the concept of a Translation Package in their latest 8.5 release. This version allows users to bundle together various types of content managed by the CMS including:
HTML, XML, Managed Assets such as Microsoft Word documents, PDF's, images (.gif, .png, .jpg etc) and folders to create a package of content that can be exported for localization.
Prior to the 8.5 release only exporting individual content items or a folder for localization was possible. Marketing departments will now have greater flexibly when deciding which pieces of content they wish to localize for a particular target language and locale. For example, if you wish to localize your website into the Arabic language, Russian, German and the Chinese language, you now have the ability to group together targeted content for each audience into translation packages to send to your translation Agency.
You can also group together content for a particular advertising campaign or event into a single translation package that can be exported for translation. For example, let's say you are hosting an upcoming annual event that will attract a huge Chinese and German audience, you can group together all of the required content for the event into a translation package which can be exported to your language translation services agency for localization.
Figure 1: Selecting content from multiple folders to comprise a translation package for localization
2. Mark for Translation Status
The Ektron 8.5 release allows you to tag content based on the following status:
Ready for translation
Not ready for translation
Should not be translated
Each content item added to the Ektron CMS has a translation status. Only content marked "ready for translation" is exported for translation. If a particular folder is selected to be exported for translation and certain content items are marked as "Not ready for translation" or "Do not translate, these will not be exported for translation.
This way you can export only approved content for translation and exclude content items that are not yet finalized. Also, if there are particular content items that are part of your translation package but do not appeal to a particular locale, you can mark the content item as "do not translate" and it will not be exported for localization.

Figure 2: Illustrates Setting the Translation Status of a content item
3. Fallback Locale
Marketing teams can provide a better experience for users browsing content in a particular language by setting a Fallback Locale. A Fallback locale is the language in which content is displayed if it is not available in the language selected by the user. For example, let's say your website is localized into UK English and Gulf Arabic, Eastern Arabic and Iraqi Arabic and the fallback locale for each language enabled within the CMS is configured as follows: The fallback locale for Gulf Arabic is set to East Arabian Arabic and the fallback language for East Arabian Arabic is set to Iraqi Arabic. If content is not available for Gulf Arabic, Ektron will attempt to find the East Arabian version. If it cannot find the East Arabian version, it looks for the Iraqi edition. If the Iraqi version is not available, then the default language is served to the user – UK English.
You can also set the fallback locale for a language to none, in this case if content is not available in the selected language; no content is rendered on the page.
Figure 3: Illustrates setting a Fallback Locale for a Language in the work area
4. Translation of Managed Assets
The Ektron 8.5 release supports the capability to export managed assets such as word documents, PDF files, images and media files for localization. It also supports the ability to export source files such as Photoshop (.PSD) and InDesign (.INDD) files together with their associated derived assets (.jpg, .png, .gif). For example, a .jpg file can be linked to its source Photoshop (.PSD) file and both would be exported for localization. This is very useful in cases where images contain words that require translation, for instance an image is a "flat" non-layered file which makes it difficult for your translation agency to localize the text embedded in the image. However, with the ability to export the associated Photoshop (.PSD) file together with the image, your language translation services agency can easily edit the text within the Photoshop file to create a localized version.
GPI's Multilingual Desktop Publishing (DTP)
GPI is armed with the skills and toolset to support Ektron's added capability to export managed assets for localization. Our team of in-house graphic designers and desktop publishers are fluent in many languages including Arabic, Chinese, and Russian and are experienced in creating, editing, and publishing localized versions of your managed assets using InDesign, Illustrator, FrameMaker, Photoshop, and Quark among other applications. To learn more about our Multilingual DTP services, please visit our Multilingual Desktop Publishing (DTP) Services web page.
5. Web Localization Include and Exclude Feature
This feature lets you designate portions of content within an article to localize by allowing you to mark pieces of content with exclude or include. Let's say your website is featured in two languages, English and Arabic. After your English copywriters have finalized the English version, your content editors can tag the portions of the article they wish to have localized into Arabic using the include-exclude feature. That way content that is irrelevant or culturally inappropriate for the Arabic market is not exported for translation giving marketing teams the ability to communicate to their web audience in the language in which they understand. Content Editors can also include notes or instructions that can be exported to the translation agency.

Figure 4: Illustrates the steps in designating portions of content to localize
6. Custom Locales
The Ektron 8.5 release allows you to define custom locales. This feature is very useful if you are localizing content to appeal to specific markets where language codes are not defined by the standard ISO language codes. For example, your marketing team can define a custom locale for the dialect of English spoken in the UAE: en-AR to accommodate specific marketing campaigns for the region.
7. Pseudo-localization
Ektron introduced the pseudo-localization capability in their 8.5 release. According to Scott Kearney, Engineering Manager at Ektron, this feature essentially allows you the ability to define a "dummy" language in conjunction with your custom locales or existing locales to evaluate and validate the translation readiness of content into a target language. Designers and content editors now have the ability to test for localization issues such as text expansion, character encoding, potential text clipping issues with Asian character sets, as well as Right to Left (RTL) and Bi-directional (BiDi) languages and when translation their website into a target language.
For example, the Arabic Language is read Right-to-Left (RTL), which affects page layout and the website user interface. The order of table columns must reverse, navigational menus will be found on the right of the page as opposed to the left, and graphics will "flip", changing places with the accompanying text. Other languages such as Russian and German, whose words are typically 30% longer than their English equivalent, can be tested to ensure your design is capable of handling the translated strings. For example, will table column widths or indented columns handle the longer words in some languages?
8. Localization Dashboard
The Localization dashboard provides a single reporting interface for users to manage their localization needs. It also allows users the ability to initiate localization actions on content and managed assets such as:
Set Locale(s),
Add Locale(s),
Remove Locale(s) and
Set Translation Status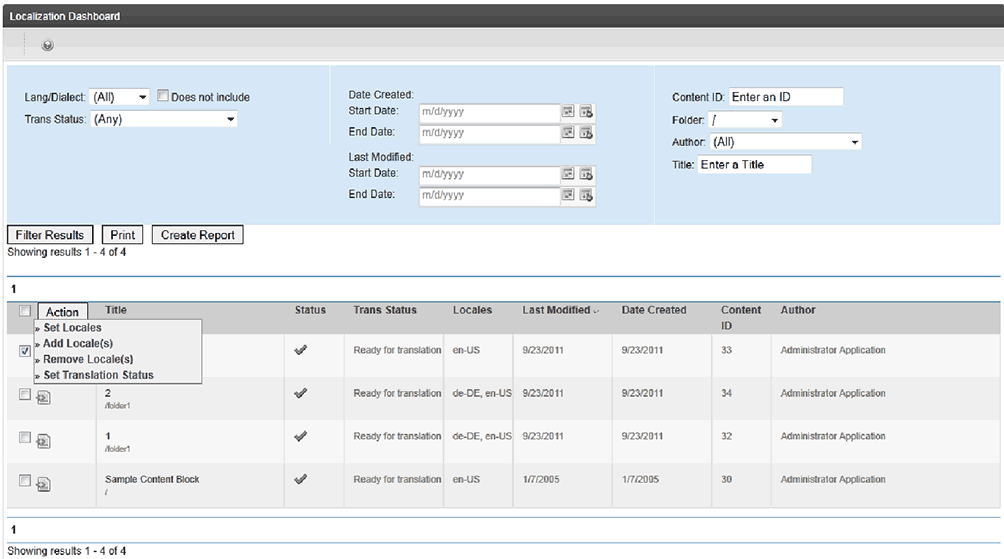 Figure 5: Illustrates Localization Dashbord
GPI's Ektron CMS Translation Connector
GPI is a certified Ektron Technology and Implementation Partner with extensive experience interfacing with the Ektron CMS. We have developed a Translation Services Connector for previous versions of the Ektron CMS which enables CMS users and administrators the ability to easily transfer files from the CMS directly to our Translation Portal and vice versa. This simplifies the import/export process for content translation workflows and allows the client 24/7 secured access to collaborate, track and manage their translation projects. To learn more about our translation services connector, please visit our website: Ektron CMS Connector
We have a case study featuring the Marine Bay Sands Singapore for which we won the best Asia Pacific website in 2010.