Ektron CMS and Multi-language Websites
The Ektron content management system (CMS) is based on the Microsoft .NET Framework and other related Microsoft stack of technologies. It is a scalable, robust and extensible application and provides a rich plug-in architecture and a template system. It was founded in 1998 and is currently led by its CEO and founder Bill Rogers. The purpose of Ektron is to deliver innovative software that changes the way people experience the web and ensure the success of every customer through a dedicated partner channel and professional services team.
Gartner, Inc. placed Ektron in the Visionaries quadrant of the 2013 Magic Quadrant for Web Content Management. Visionaries are defined as "forward-thinking and technically focused.  For example, their products may have unique multilingual capabilities or set the market's direction through their innovation and product development." The most recent release at the time of this blog is version 9 SP2 and it was released on July 01, 2013. To date Ektron has over 3,700 customers and the product is used in over 12,000 public-facing websites.
In this blog entry, we shall discuss using Ektron to support and manage multiple language websites. This will be the first post in a three-post series.
Preparing to support a Multilingual Site
Ektron provides great native features for the support and management of multiple language websites out of the box. When setting up a multilingual website in Ektron there are several factors that fall outside the translation-only process that is built into the Ektron Web CMS. The first step will be enabling the appropriate Languages/Regions through the Ektron Work area as seen below: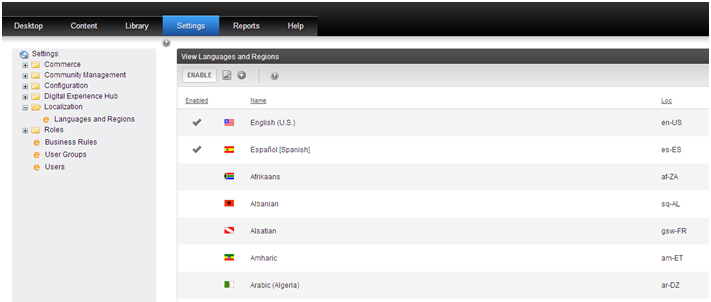 Configuring templates for multilingual websites
Ektron remains committed to ensuring best practices are adhered to when building multiple language websites on the platform. However there are some steps that are dependent on the development which the Ektron CMS is unable to enforce. Your website's template files (i.e. pages) that are used to display the content on your website will also require preparation to support multilingual content.
Important tips on creating Ektron templates for website localization:
Content translation expansion – When developing your website templates it is important to remember to keep enough space to accommodate text expansion for other languages (e.g. text length could expand up to a 25% of the original). Your web templates must also be coded so they respond in a fluid manner (i.e. expand or shrink) based on the displayed content.
Hard-coded text: These are string components (e.g. alert messages, labels, etc.) that are written directly into the web templates. These hard-coded strings are not available during the export for translation process and will remain as is. In some cases you may want fixed text, but in other scenarios like registration forms, this will not be accepted by your users. This means that every time you have to make one change to the template you need to apply the same change over and over again for each language. To solve this issue, one of the following is highly recommended:

Moving all hard-coded text extracted into a resource file. This also will need to be sent for translation.
Creating a "Dictionary" folder within the CMS: Set up a simple SmartForm/XSLT that will hold/display the text and then replace all the hardcoded text on the web templates with content controls that will have their IDs pointing to each entry in the Dictionary.
The other great benefit of adopting either of these approaches is that the text now is completely managed in a central location and is available for export/import during the translation process.