Translating Inbound Marketing Content: eBooks
Global SEO
Translating Inbound Marketing Content: eBooks
Successful inbound marketing strategies include creating content your website visitors will find valuable. This is equally true for the target audiences of both your domestic and global websites. Often what is done for the English corporate website is not always followed for the global websites. Failing to create localized or translated content will result in limited traffic and leads from your international personas. eBooks are valuable content that can be translated for all of your audiences.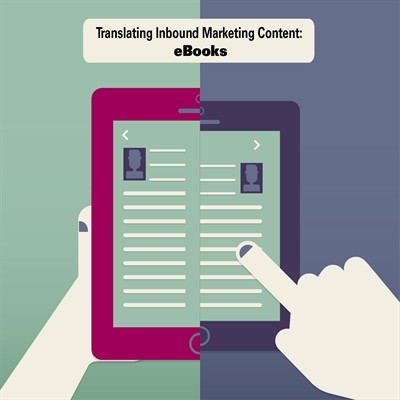 Let eBooks be Your Inbound Lead Driver
eBooks have become an important marketing asset for companies to drive inbound leads. eBooks convey information that will educate visitors and not come across as selling. Companies can demonstrate their knowledge of the topic and a high level of competence to drive possible customers to them for further evaluation of their products or services.
If you are using call to actions (CTAs) on your English site to offer an eBook and find this successful, you should consider translating the eBook into the additional languages your global website supports. You have already invested in creating the eBook so localizing it into additional languages is a great way to repurpose the eBook and gain more value. No need to reinvent the wheel, just localize it.
eBooks are great tools to guide customers along the buyer's journey. The eBook format provides an opportunity to go into more detail than you would in a blog or brochure.
Demand Metric in their "A Guide to Marketing Genius: Content Marketing" states that in the past 12 months 58% of buyers have used eBooks to research purchasing decisions.
Content Marketing Tools and Platforms, like HubSpot, Love eBooks
HubSpot, a leading inbound marketing software company, suggests in their Buyer's Journey workflow that eBooks are a great tool to use in the initial 'Awareness' stage of the 'Journey'.
The eBook information should address a problem that the visitor has and not promote your company directly. From here the visitor can then move into the 'Consideration' and 'Decision' steps of the journey to become a customer.
Don't Forget Mobile Devices
Around the world mobile devices have become the leading way that people access the internet. Using leading eBook tools, such as AZW (Amazon), epub (open source) and Mobi (Kindle), will provide assurance that your eBook can be read in the format/layout that it was intended. Localizing your eBook will allow the potential customer to read it in their native language.
Summary
If your domestic language content marketing plan includes eBooks, then your global content marketing plan should as well. eBooks are a great tool for any inbound marketing strategy you may be using. Localizating eBooks is a wonderful way to provide your international customers great content that you have already created and invested in. Localization will help drive business leads for your international offices.
Further Resources on International Search Engine Marketing(SEM) including Search Engine Optimization (SEO), Search Engine Advertising (SEA) and Social Media Localization
Global Digital Marketing for multilingual websites or for content destined for specific locales (country + language + geography) is more than just translating keywords. Today companies should work with a combination of owned, earned and bought digital media in order to drive traffic to their localized or translated websites. Localization of any media requires in-country native speaking professionals to copywrite and localize content in order to engage potential customers. Whether you work with a traditional digital marketing agency, or you are one, GPI's global digital marketing team can serve as an extension of your in-house digital marketing department to help you deliver your message around the world.
For more information on specific topics related to global digital marketing, you may wish to review some of our previous blogs: