GPI Project Manager Completes NYC Marathon
I ran my first two marathons in 2000 and 2001 in Portland, Oregon. During the second marathon, I injured my knee, which resulted in an ACL surgery. However, I always hoped I would run another marathon one day.
In February, my son and I were talking on the phone the day before the deadline to enter the lottery for the 2017 NYC Marathon. The marathon happened to land on my son's 28th birthday, so we both decided to enter to see if we could run it together.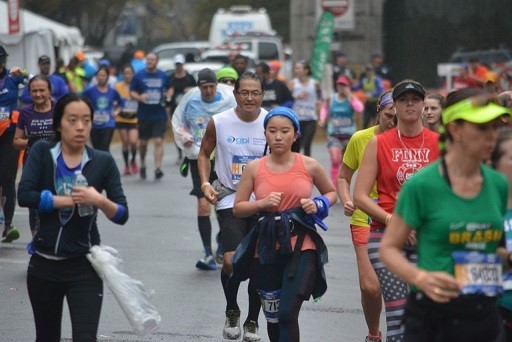 On March 2nd, they announced the lottery winners. After anxiously waiting to hear all day long, I finally received an email around 8 p.m. announcing that I had been selected to run in the marathon. Unfortunately, my son's name did not get drawn, but he and my wife would be coming along to support me.
After the initial excitement wore off, the reality of what I was up against set in. It had been 16 years since my last marathon and I was concerned about the shape of my knee. But despite my hesitation, I began training.
Training
In March, I started running three miles at a very slow pace and could barely finish. In May, I got more serious and started the 22 week marathon training program, starting with three miles three days a week and one long run on the weekends. What amazes me to this day is how the human body can adjust. By August 13th, I could run 13.1 miles, a half marathon.
Running in July and August in the North Carolina heat and humidity was brutal. I carried a water pack and would refill it at the half way spot to remain hydrated. By October 1st, I was running 20 miles, which was the longest distance and peak run for the training program. I felt good when I finished 20 miles and I felt ready for the marathon.
Injuries
Toward the end of the training program, on October 14th, while running one of the last semi long runs (13.1 miles), I injured my hamstring. From that point forward, I was not able to run until the marathon day. I was very disappointed, nervous and worried that I would not be able to finish the marathon on November 5th.
I bumped up my vitamin A, C and amino acid intake, stretched and did a lot of resting. On the train to NYC, I was still feeling a little pain and a bit discouraged.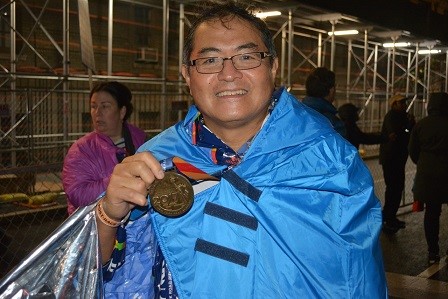 Race Day
On the race day, close to 70,000 runners came to the starting area with staggered starting times. My assigned start was 11 a.m. As we walked to the bridge where the starting line was, I became so emotional. I thought, "here I am now, getting ready to start this race and nine months ago I was not able to run three miles! Now, I am walking to the starting line with 70,000 runners."
When the cannon blasted for the start, I told myself, "okay, you have been training for this moment, you can do it!! Let's go!"
The race was awesome. There were lots of spectators, supporters and musical bands along the way to keep us motivated. There were people from all over the world and from all walks of life, together working toward the same goal. That energy was amazing, cohesive and very healing at this complicated time in our world's history.
My hamstring was doing okay and I did not feel any pain. The only problem I encountered was a bit of cramping, but I was able to forge ahead. At mile nine, I was thrilled to get a hug from my wife and son. Then at mile 16, Fabian, my work colleague from Argentina, found me and cheered me on. At mile 20, I knew I could finish it and when I finally reached Central Park, the tears started streaming down my face. At the finish line were my son, wife and Fabian with hugs, tears and joy. Even now, thinking of the marathon I still get emotional.
Conclusion
After the race, my son asked me if I liked running. My answer was NO. Why in the world did I run this marathon then? I loved the challenge to my body, the commitment it took to follow the training regimen and the love and support that all my friends, co-workers and family showed me along the way. This was a place and time where the world's worries were nowhere to be seen. We were united in our goals and created a strong, compassionate, committed and huge team of humanity and incredible energy.
This marathon experience reminded me that it pays to take it one step at a time, there is no short cut to running 26 miles. It is okay to take it slow and to find your own pace, while sharing the challenge with so many wonderful human beings. Will I run the NYC marathon again? Yes, I will run it again.