GPI Translation Connector for Umbraco 8
As part of our continuous commitment to support new versions of content management systems, we launched the GPI Umbraco Translation Connector for Umbraco 8.
Umbraco is a free CMS that has been growing in popularity around the world. It gained a considerable portion of the market thanks to its power, easy installation and management, and incorporation of new technologies. Umbraco 8 introduced many improvements in terms of localization. This enables users of Umbraco to build multilingual websites in a more professional way.
In this blog, I will describe the features and benefits of the GPI Umbraco Translation Connector.
Use the GPI Umbraco Translation Connector
Easy Installation
The connector is distributed as an installation package that can be easily installed in your website with just a few clicks. Once installed, you will need to follow a few steps to configure the security settings. Then, you'll be ready to start using it.
Seamless Integration
The connector follows Umbraco best practices and uses the same Umbraco templates and designs. As a result, this maximizes user experience by making the connector look like just an extension of the platform.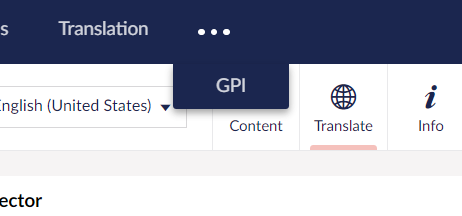 Friendly User Interface
The connector simplifies the translation by allowing you to have your entire site translated by completing a single form.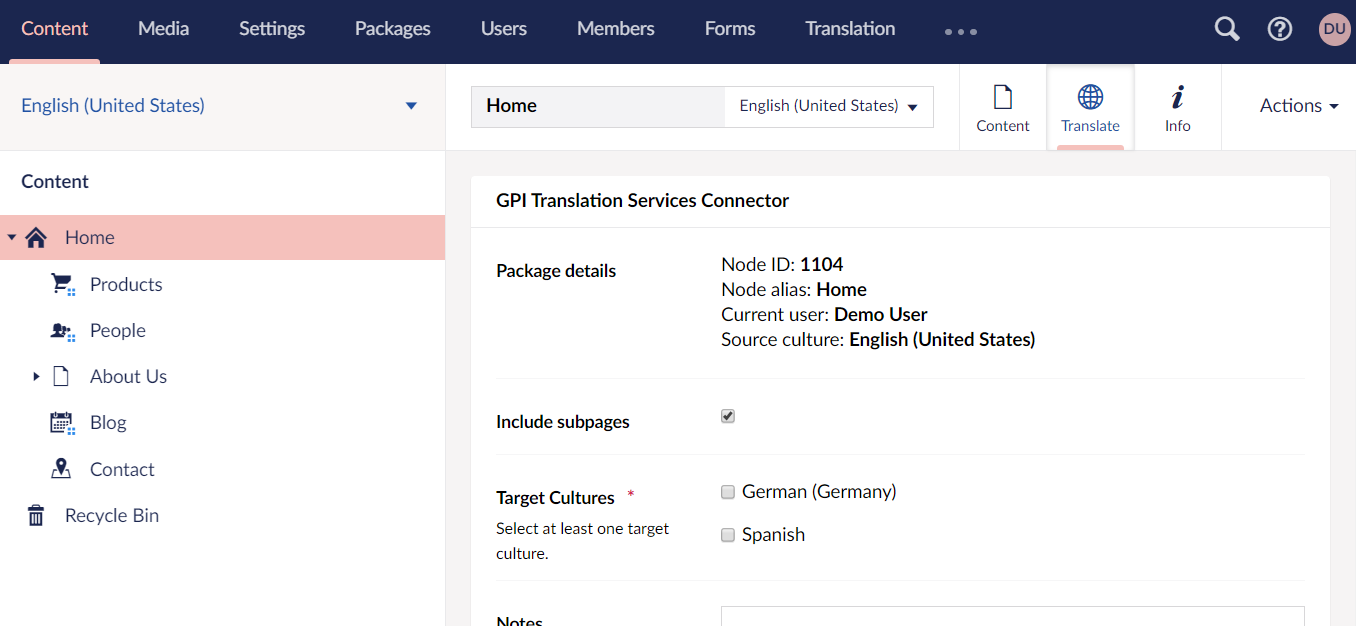 Also, the connector will allow you to import translated content with a single click. The translations will be imported in their corresponding Language Variant for each translated page.
Dictionary Items
The connector supports working with the Umbraco dictionaries using the locale table design. By doing so, you can have a clear picture of which dictionary items are already translated and which ones need translation, depending on the cultures enabled on your Umbraco back end.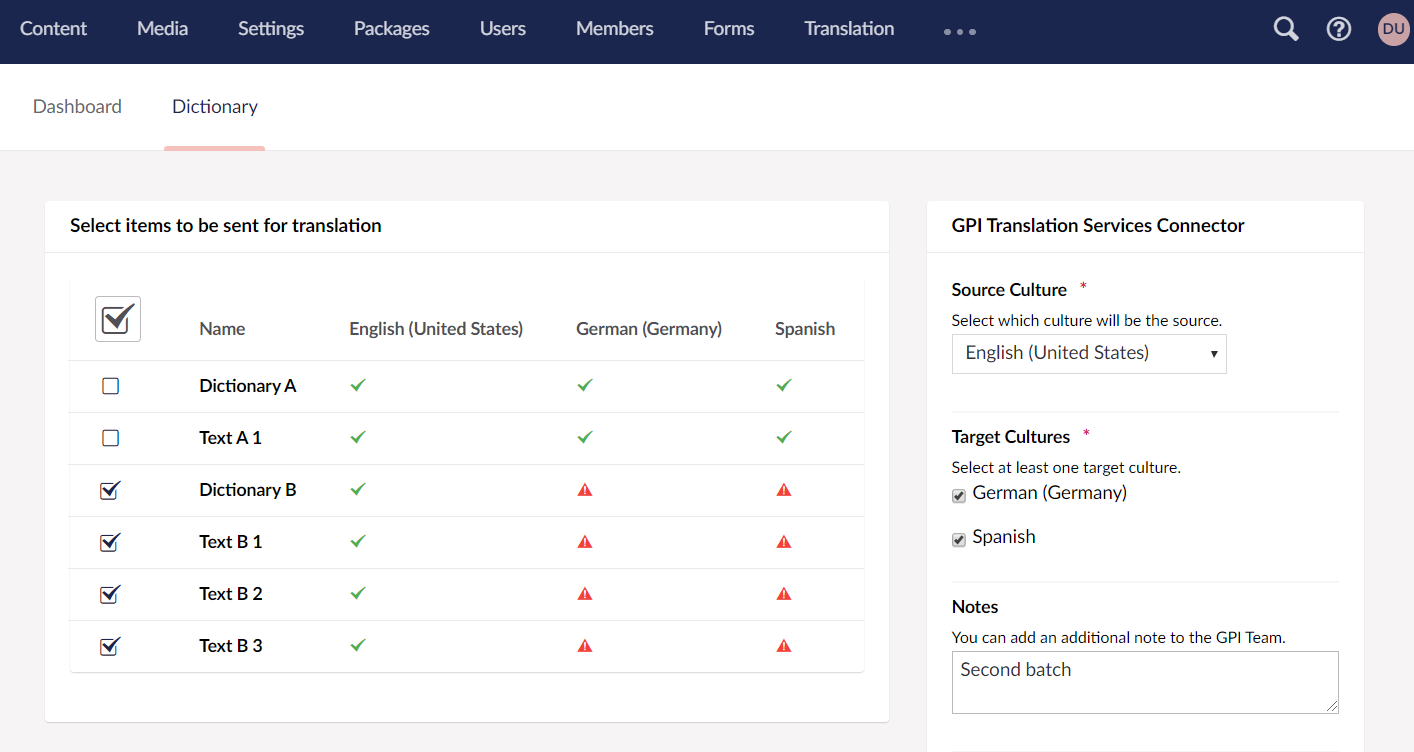 Dashboard for Tracking Translation Workflows
The connector provides you a dashboard screen to quickly see an overview of the status for all your localization projects. Additionally, you access the secure translation portal provided by GPI, where you can find more details about the status of your projects.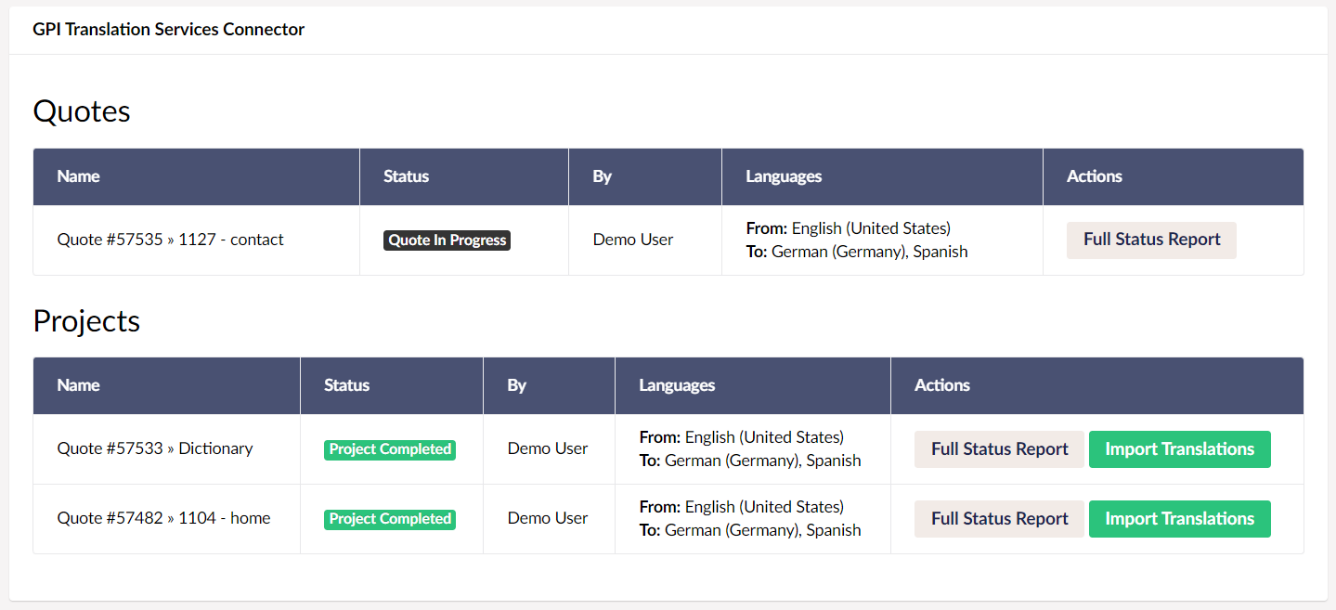 Summary
The GPI Umbraco Translation Connector helps you easily translate and update your multilingual Umbraco website because installation and set up is simple and straightforward. Additionally, you will be able to easily send content for translation and upload that content back with one click. Lastly, you have visibility into the status of all your translation projects and access to your global language teams.
Click here to request a demo for GPI Umbraco Translation Connector or here to read more info.