About the Project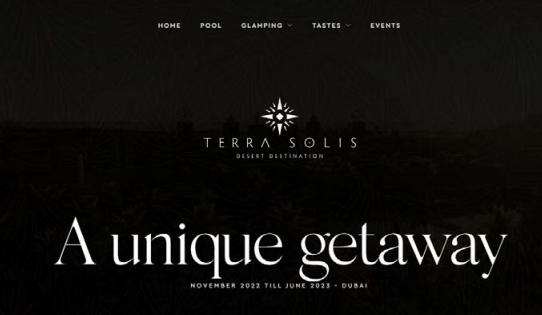 The Terra Solis Dubai website and document localization project consisted of translation, desktop publishing, and online quality assurance of select website and documentation content into Modern Standard Arabic.
The Arabic website localization was produced in order to help promote the newest desert destination by Tomorrowland across the Arabic-speaking world.
The Arabic document localization was produced in order to communicate key guest services protocols with all Arabic-speaking operations personnel, ensuring Tomorrowland delivered the best service across the resort to all guests.
GPI used a multinational team of Arabic-speaking hotel and hospitality translators and copywriters from around the region including Emiratis, Egyptians, Lebanese, and Syrians to ensure the Modern Standard Arabic was compelling, consistent, and culturally correct.
Challenges
The main challenge faced during this project was ensuring the accurate translation of the website content while preserving the original formatting and layout. Arabic is a right-to-left language that requires special attention to typography and formatting. Any errors during translation could negatively impact the user experience of the website.
Solutions
To ensure accurate and culturally appropriate translation of the website content, GPI took several steps:
1- Translation team: We assembled a team of professional native-speaking Arabic translators with expertise in the hospitality industry to ensure the translation was accurate and culturally relevant.
2- Translation memory: We utilized translation memory tools to ensure consistency in terminology and branding across all languages.
3- Quality assurance: We implemented a robust quality assurance process that involved multiple rounds of editing and proofreading by experienced linguists to ensure the accurate translation of the content while maintaining the original formatting.
Results
"Terra Solis wanted professional Arabic website localization that was as engaging and unique as our resort," says Dalia Amer, Marketing Manager, Terra Solis."The GPI team, translation tools, and track record for delivering on high-profile websites ensured we would attract and engage Arabic-speaking guests from the MENA region and around the world."
About Terra Solis
Terra Solis Dubai is a unique desert destination by Tomorrowland, welcoming guests from around the world to a refreshing and energizing pool & glamping resort and a magical oasis of relaxation in the Arabian desert, away from all the noise. Open daily for both overnight guests and day visitors, Terra Solis boasts a year-round vibrant pool scene, a unique glamping experience, exquisite tastes & aromas from around the world, and a fun party atmosphere with the finest music & entertainment in the Arabian dunes. Terra Solis is inspired by beautiful star constellations and features some of the most iconic Tomorrowland elements, encouraging people to wake up from a night under the stars and live to the rhythm of the sun, stargaze into their dreams, and celebrate life – inspired by the magic of Tomorrowland. Guests can also experience the true Tomorrowland madness during a range of exclusive events & parties organized at Terra Solis.