Content Strategy and UX – Part 3
In the previous blog posts of my content strategy series, Content Strategy and UX – Part 1 and Content Strategy and UX – Part 2, we discussed the best practices for creating your content. We covered: voice, tone, style and how to perform a content audit. For the third part of this series, I will detail how to define your target audience.
The better you understand your target audience and their needs, the better you can prepare a content strategy to attract them.
Defining Your Audience
Content strategies are not only for generating content. Audiences don't just spontaneously appear, they are drawn to information that is relevant, meaningful and useful.
To create the right types of content, you have to understand who you are trying to attract. Is your audience a specific age group, men, women, or both, located in a certain country or region? Once you define who your audience is, you can drill down into more specific details by developing personas.
Developing Personas


To create appropriate content for your audience, you need to develop personas that tell you who they are.
Identifying key characteristics that describe your audience will help you fully understand their needs and know the best types of content to produce. It is a best practice to create a few different personas that will cover most of your customers. Be very detailed with these personas so they mimic actual people. Then, create content that aligns with each of your personas. Each of your personas may be at a different stage of the buyer's journey, so create content that will guide them along to the decision stage.
Here is a list of a few of the characteristics you may use when defining personas:
Location
Language
Age
Education level
Company title
Social media use
Mobile use
Income
Lifestyle
Buyer's journey stage
Once you know who your personas are and what they need, you can create the appropriate content. If they are in the awareness stage a blog post discussing their pain points might be helpful, if they are in the consideration stage, an eBook about your services might move them into the decision stage, where a case study may be effective in closing them as a customer.
Interview Your Stakeholders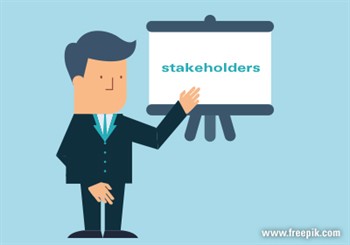 Interviewing your stakeholders is one of the best ways to get feedback on which content strategies are working and which are not. You don't need to build personas to understand them, they are real people within your organization. They may include your boss, project team members, executive sponsors and content contributors.
Surveying your customers is the best way to get feedback, but that may not always be feasible, so gathering your stakeholders' input on your content strategies is an effective way of evaluating your content offerings.
Summary
Producing informative and relevant content will attract the customers you are working so hard to gain. But, in order to produce relevant content, you have to know who your audience is, what their habits are and what they need. Define your audience and develop your personas to create the best possible content strategy.