Effectively Organizing your Link Building Campaigns
Organization can be a major difficulty when creating a link building campaign. There are a lot of tasks you have to keep track of in order to have an effective link strategy, like gathering contact information, sending messages, making phone calls, reading responses and providing content.
This blog will outline some tips and tools that can help you keep all of your link building tasks organized.
Spreadsheets and Google docs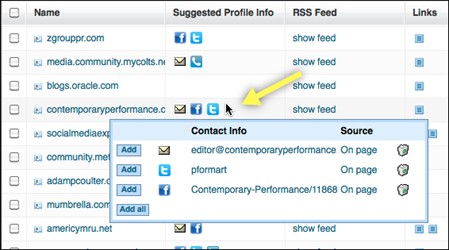 Spreadsheets and Google docs will help make your campaign more efficient and effective. They will also help keep your team organized. You can easily share spreadsheets and check the status of each task.
Google docs allow you to keep link building activities listed, shared, and updated between teams. That way, when an email is sent, the rest of the team will know it has been sent and what the next step should be.
Here are some of the items to include in a link building spreadsheet:
Date Identified
URL
Email & Contact Information
Outreach Date
Response
Next Steps
Notes
BuzzStream
BuzzStream has some great tools for prospecting and relationship nurturing.
This tool gives users the ability to add emails, social profiles, action items, etc. to each contact. Additionally, you can perform your outreach and relationship nurturing directly from the platform.
The BuzzMarker Chrome extension allows you to easily add websites, contacts and links to BuzzStream without leaving the site you are on.
But keep in mind if you are using the directories method in building backlinks BuzzStream may not be helpful because it crawls the URL/page you insert only, not the entire website, so it won't detect if this backlink is linking to your website or not as the directory will generate a new URL for your backlink.
MOZ Open Site Explorer
You can use the MOZ Open Site Explorer to extract the new backlinks you have and you can also view your competitor's links. This tool gives you the option to check and create your link profile.
Monthly reports are also available to view your latest earned backlinks, which will let you to organize your backlinks history and data.
Gmail Canned Responses
Writing a good outreach email can take a lot of time and effort. If you are using Gmail, you can simply create templates using the Canned Response feature which you can find in the Labs section. Each person can create their own personalized email templates.
Outlook also offers a way to create email templates.
YesWare
One of the most challenging parts of link building is the outreach process. You need to work hard to find the right person, build the relationship, come up with the perfect email, and then it comes to the response. You wonder if they opened the email or not? Should you follow-up or resend?
YesWare is a Gmail add-on that lets you track email opens. You can track opens, set follow-up reminders, and it can even integrate with a number of CRMs including Salesforce, Highrise, Batchbook, and others.
Reminders
Set reminders to alert you via email of important tasks like following up with something. That way you won't miss it on a fast-paced day. You'll have an email reminder there in your inbox.
Conclusion
Running an organized link building campaign is imperative to current and future success. Thankfully there are a lot of tools out there that can help you stay organized.
Further Resources on Global Digital Marketing (SEO, SEM, and Social Media)
Globalization Partners International's (GPI) Global Search Engine Optimization Specialists can help optimize your multilingual websites for better SERP results. Our teams can provide both organic Search Engine Optimization (SEO) and Search Engine Advertising (SEA) such as Pay-Per-Click (PPC), paid inclusions or contextual advertising to help you achieve better visibility in country-specific search engines, which will lead to increased traffic and ROI with your multilingual version websites.
For more information on issues specific to search engine marketing (SEM), you may wish to review our previous blogs: