Translation and Localization for Africa: Republic of Guinea
The Republic of Guinea's economy is largely dependent on agriculture and mineral production. It is the world's second largest producer of bauxite, and has rich deposits of diamonds and gold. Guinea's mineral wealth makes it potentially one of Africa's richest countries, but its people are among the poorest in West Africa.
This blog will focus on some brief, but important facts about the Republic of Guinea.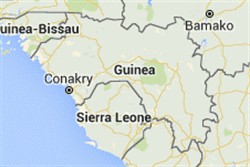 Guinean Demographics
Population of 11.78 million (2015).
Conakry is Guinea's capital, largest city, and economic center with a population of about 1.66 million.
Guinea possesses over 25 billion metric tons of bauxite (possibly up to 1/2 of the world's reserves), 4 billion metric tons of high-grade iron ore, significant diamond and gold deposits, and undetermined quantities of uranium.
Exports: $1.35 billion (2012 est.): bauxite, alumina, gold, diamonds, coffee, fish, and agricultural products.
Imports: $2.60 billion (2012 est.): petroleum products, metals, machinery, transport equipment, textiles, and grain.
Major Trade Partners: India, Russia, Spain, France, U.S., Germany, Ireland, Denmark, Ukraine, China, Netherlands (2012).
Guinean Languages
French, the official language of Guinea, is the main language of communication in schools, government and security forces and the media. More than 24 other languages are also spoken including, Malinké, Susu, Fulani.
The literacy rate of Guinea is one of the lowest in the world: in 2010 it was estimated that only 41% of adults were literate (52% of males and 30% of females).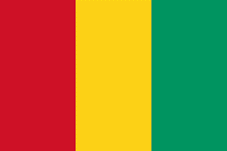 Guinean Culture
Guinea's culture is layered and interesting, inhabited by a wide range of ethnic groups, each with their own distinct traditions and many variations in language.
The country's flag is red, yellow and green. Red symbolizes the blood of the martyrs who died from slavery and wars, yellow represents the sun and the riches of the country, and green the country's vegetation.
The primary religions are: Muslim 86.7% and Christian 8.9%.
Guinean Consumers
The official currency is Guinean franc (GNF).
Roughly 6.5% of the people in Guinea use the internet.
Primary products are rice, cassava, millett, corn, coffee, bananas, pineapples, livestock, and forestry products.
Guinea's Future
The biggest threats to Guinea's economy are political instability, the continuation of the Ebolavirus epidemic, and low international commodity prices. Rising international donor support and reduced government investment spending will lessen fiscal strains created by the Ebolavirus epidemic, but economic recovery will be a long process while the government continues to fight the disease. The economic toll of Ebolavirus on the Guinean economy is considerable. Ebola stalled promising economic growth in 2014-15, and the economy will continue to stagnate in 2016, unless Ebolavirus is eradicated.
Recent political stability has renewed interest in Guinea from the private sector, however, a reputation for corruption, inefficiency, and limited government transparency, combined with fears of Ebolavirus, continue to undermine Guinea's economic viability.
The country struggles with major infrastructure issues. Guinea suffers electricity shortages, poor roads, rail lines and bridges, and limited access to clean water. The present government is working to attract foreign investment and hopes to have greater participation from western countries and companies in Guinea's economic development.
Summary
Guinea has considerable potential for growth in agricultural and fishing sectors. Soil, water, and climatic conditions provide opportunities for large-scale irrigated farming and agriculture. Possibilities for investment and commercial activities exist in all these areas, but Guinea's poorly developed infrastructure and rampant corruption continue to present obstacles to large-scale investment projects.
Additional Resources on Africa and African Language Translation
In order to support the growing needs of our clients for many of the African and Middle Eastern languages, GPI has opened offices in Dubai, UAE and Cairo, Egypt to support our clients doing business in the Middle East and Africa. GPI has built teams of professional native speakers for many of the African languages whether national or indigenous, who are available to help companies with their African language translations needs.
Sources:
https://www.cia.gov/library/publications/the-world-factbook/geos/gv.html
https://www.bbc.com/news/world-africa-13442051