B2B Online 2017: Manufacturing and Distribution Going Digital in the Windy City!
GPI had a great and very informative time exhibiting at B2B Online in Chicago in early May. This conference has been steadily growing in attendance year after year and it is easy to see why. Nowhere else can manufacturers and distributors learn more about how to create and implement digital strategies, specifically for B2B, in order to remain competitive, relevant and successful in today's ever-changing digital landscape.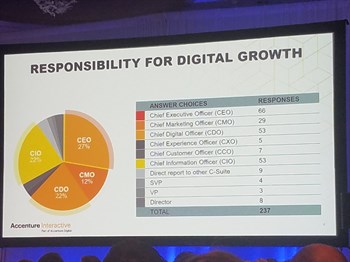 This was GPI's first time at B2B Online and we were amazed at the caliber of exhibitors, keynote speakers and panelists. Digital strategists and ecommerce executives from some of the world's largest and most recognizable brands provided invaluable insight and practical tips for manufactures and distributors to take back home and apply.
During this three day event, we had the pleasure of speaking with many manufacturers and the various agencies that support them about the challenges B2B companies face now that they realize B2C expectations are filtering through to the B2B world. Those expectations will only continue to grow as the clientele becomes savvier and, naturally, more demanding.
There were several sessions and case studies on display that did a wonderful job highlighting those challenges and provided great insight into how they tackled them.
A few of the sessions that were of particular interest included:
FIRESIDE CHAT: Defining the B2B Customer: Who's Researching & Who's Buying: Elizabeth Ubell, VP & President, Marketing, ecommerce, and Medium Customers, W.W. Grainger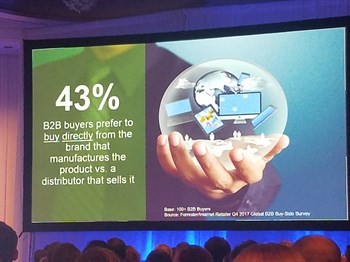 Her presentation addressed a major issue for many B2B companies: identifying your customer. Unlike B2C, you may have multiple people involved in the buying and decision making process with one person doing the research on your site, another making the purchasing decision and someone else entirely who is the name on the account.
The challenge is to understand who you are really talking and marketing to, and how to create target messaging that will resonate effectively to the researcher, the decision maker and the purchaser.
Transforming the B2B Customer Experience with Data-Driven Commerce: Gilbert Moreno IT Section Manager, National Instruments Corp
In his keynote, Gilbert focused on the challenge many organization face when trying to manage complex product catalogs and make the delivery of timely and relevant product information an integral part of the B2B buying experience. He demonstrated how the deployment of new technologies and innovative thinking allowed National Instruments to simplify the customer interaction while at the same time, providing technical buyers all necessary product information by subscribing to a data-driven commerce experience transformation.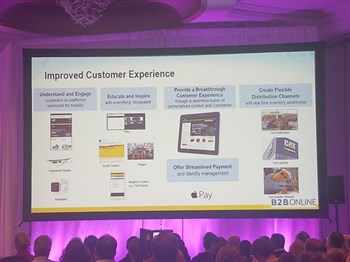 One thing I found particularly interesting and useful as it covered a wide variety of topics of relevance, were the Interactive Roundtables that were hosted on both main days of the event, Monday and Tuesday. These roundtables (11 total) truly provided something for everyone. They were broken out into small groups and attendees were invited to join two different roundtables for 30 minutes each, depending on their focus or interest. The roundtables addressed topics such as Organization Design for Marketing & Sales Alignment in Decentralized Organizations, Manufacturer Strategies for Content Success, Engaging Your Salesforce to Increase Online Sales and What Manufacturers & Distributors Need to Know About Modern App Development in Today's API Economy.
Both my colleague and I attended several that sparked very interesting and lively conversations, and we came away with a much better understanding of the unique requirements B2B selling companies have in the manufacturing and distribution space.
We are already planning for next year's B2B Online conference and look forward to seeing you there again!