CAT Tools: How to Choose the Most Appropriate One?
What is a CAT tool?
CAT stands for Computer-Assisted Translation, also known as computer-aided translation. Computer-assisted translation software facilitates the job not only of translators, but also of Localization Project Managers, Localization Engineers, and I dare to say all those participating in a localization project. CAT tools enable each user to complete their work more quickly and efficiently.
This tool allows us to submit, edit, manage, and store translations. It's capable of handling terminology, and suggesting/auto-completing translations based on a Translation Memory (TM).
How Do CAT Tools Work?
CAT tools work by dividing the source content into smaller segments and the Translation Memory (TM) stores the source and translated segments.
Additionally, they have a variety of editing and quality control capabilities, including autosuggest, spellcheck, and others.
Key Components of a CAT Tool
Translation Memory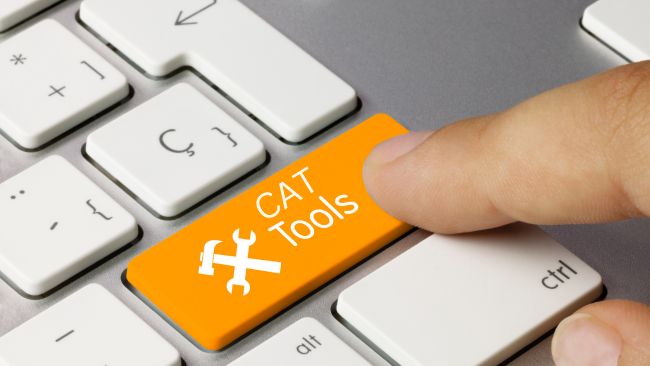 A translation memory (TM) is a database that stores previous translations, known as translation units. Each translation unit is made of a source string and its corresponding translation. A translation memory is specific to a client and contains one pair of languages.
The TM allows translators to reuse previous translations, with or without revisions, whenever the translation memory identifies identical translation segments (full matches) or similar translation segments (fuzzy matches) in a new translation project. This enables consistency across language teams and speeds up translation productivity.
Term Base (Glossary)
A Term Base, also known as a glossary, is a collection of key terminology (single words or expressions) that's relevant to a company, organization, or institution.
When a term that's in the term base appears in a string, the translator will easily identify it and use it accordingly. This feature ensures the accuracy and consistency of common or specialized terminology across translation projects.
Quality Assurance
QA programs automatically look for any typos that might have been introduced during the translation process, such as double words, unnecessary spaces between words, missing tags, and other errors.
Reduce errors with built-in grammar and spell checkers that highlight inconsistent HTML, email addresses with different digits or content, different brackets, and inconsistent URLs.
How to Choose the Most Appropriate One?
The selection of CAT tools on the market is astounding. There is no perfect CAT tool, so it's sometimes hard for translators to choose the most accurate among them.
Your decision will be influenced by a number of variables. Here are three key things to consider when choosing a CAT tool.
Which CAT Tools Do My Customers Use?
If you, as a translator, are working with a reduced number of agencies, this is the first thing you may want to consider.
I wouldn't recommend buying a CAT tool to please just one customer, of course, but ideally, you can pick one that is used by most of them. Most agencies offer training and support for the CAT tool they use, and you can benefit from this.
Also, some translation companies offer a discount for selected CAT tools if you purchase the tools through them.
Will This Particular CAT Tool Suit My Needs?
Before making your decision, I recommend you try testing some of them and then decide which one suits you the best. Maybe you could start with a free one.
Find the  CAT tool you feel most comfortable working with and the one that suits your workflow. The right CAT tool should optimize your processes thanks to integrations and built-in modules. There are different levels of integration with most CAT tools available on the market. The key is to find the CAT tool that can work seamlessly within your workflow.
What's My Budget?
We're all aware that most of the paid CAT Tools are quite expensive, and sometimes for those just starting translation, it is not possible to make such an investment.
If the agencies you're working for give you the chance, you can work with free software such as WordFast Everywhere or SmartCAT. They cover the basic features and will allow you to automate your translation workflow up to some level.
It's true, though, that most agencies will expect you to have a license for one of the most popular paid CAT tools such as SDL Trados or MemoQ.
What I can guarantee is that if you decide to invest money in one of these, it will pay for itself by allowing you to work faster and ensure better quality; among the other benefits already mentioned in this blog. Furthermore, the range of clients that you'll be able to work with will significantly increase.
Choosing a CAT tool is definitely not easy for translators, but it is imperative to consciously consider all choices before making any investment. If you've decided to take your translation business to the next level, then CAT tools are definitely a must.
Hopefully, the items listed above will help you make a good choice.
If you're willing to collaborate with us as a translator, don't hesitate to register your profile under GPI's Vendor Registration page and a GPI PM will contact you to start the onboarding process.