Atlantis, the Palm, Dubai
Atlantis, the Palm, Dubai
Website Localization Project Summary
One of the world's leading luxury hotels & resorts, Atlantis, The Palm, Dubai selected Globalization Partners International for their global translation and website localization needs.
Atlantis, The Palm required a global translation company who could provide translation and localization services for a variety of collateral materials including brochures, menus and press releases as well as comprehensive website localization utilizing website localization workflow best practices and The Sitecore® Experience Platform™.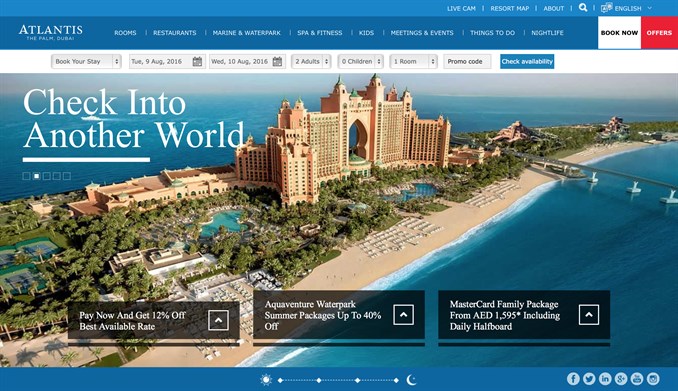 Results
Working with the various groups throughout the hotel, GPI provided a range of language & technology services including:
Translation
Copywriting
Desktop Publishing
Website Localization
Website Translation Connector for the Sitecore CMS
These services were provided in Arabic, Chinese, French, German, Italian, Japanese, Portuguese, Russian, Spanish, Swedish and Turkish.
A variety of content types including menus, brochures and other collateral were localized by native speaking copywriters and translators as required for guests' marketing outreach. Annual and seasonal collateral pieces were produced in different languages supporting local and global holidays and events ranging from New Year and summer vacations to Ramadan and Christmas holidays.
Atlantis, The Palm also conducted website localization for www.atlantis.com. GPI localized content, graphics, SEO keywords and meta data as well as deployed GPI's Translation Services Connector for Sitecore, which streamlined website translation workflows saving time and money on daily, weekly and monthly updates to content from their language version sites.
About Atlantis, The Palm
Atlantis, The Palm is the first entertainment resort destination in the region and is located at the center of the crescent of The Palm in Dubai. Opened in September 2008, the unique ocean-themed resort features a variety of marine and entertainment attractions, as well as 17 hectares of waterscape amusement at Aquaventure Waterpark, all within a 46 hectare site.
It is home to one of the largest open-air marine habitats in the world, with over 65,000 marine animals in lagoons and displays including The Lost Chambers Aquarium, a maze of underwater corridors and passageways providing a journey through ancient Atlantis. Aquaventure features 18 million liters of fresh water used to power thrilling waterslides, a 2.3 kilometer river ride with tidal waves and pools, water rapids and white water chargers. Dolphin Bay, the unparalleled dolphin conservation and education habitat, was created to provide guests a once in a lifetime opportunity to learn more about one of nature's most graceful mammals. Atlantis, The Palm is also known as the culinary destination in the region with a collection of world-renowned restaurants including Nobu, Ronda Locatelli and Bread Street Kitchen & Bar by Gordon Ramsay. The resort boasts an impressive collection of luxury boutiques and shops as well as extensive meeting and convention facilities.