About the Document Translation Project
Globalization Partners International provided Russian, Spanish and Chinese document translation and multilingual desktop publishing services to BVB, a D.C.-based advertising firm. The project involved several marketing collateral pieces, including 8-panel brochures and posters. GPI worked with BVB's design team to ensure the language versions maintained the same design and branding as the English pieces.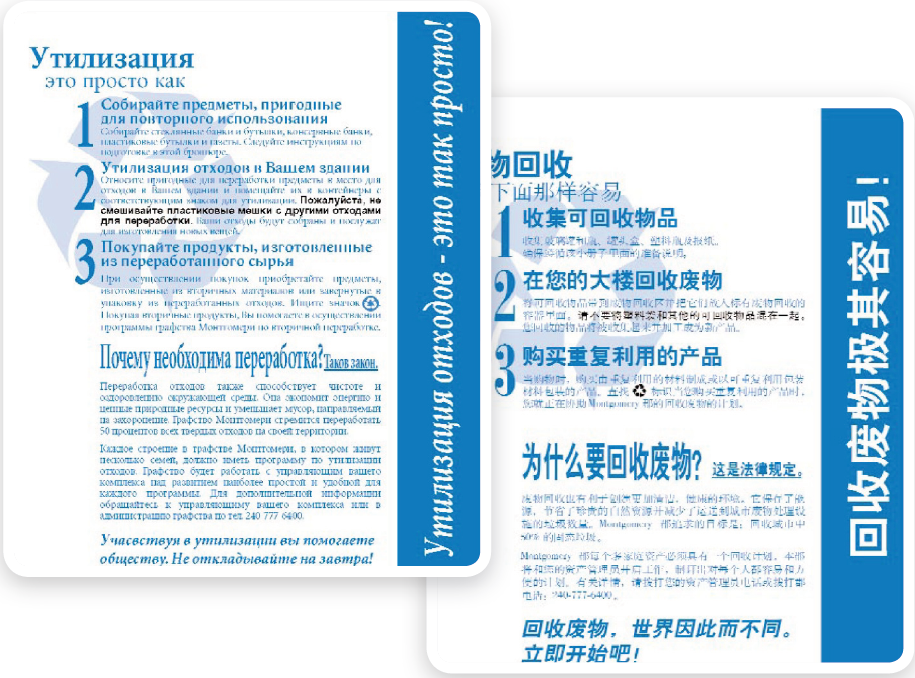 The English content was translated and copy written into the other languages by native speakers of Russian, Spanish and Chinese. The Spanish was universal, targeting the U.S. Hispanic markets, and the Chinese was Simplified, for U.S.-based Chinese speakers from Mainland China.
GPI utilized an Acrobat PDF document translation workflow so BVB could review and approve all multilingual pieces with no need to have any fonts or systems in place to handle the Chinese and Russian translation. BVB provided comments back to GPI by using the Notes/Annotations tool in Acrobat. The final deliverables were press-optimized PDF's – including color separations and crop marks – so BVB's printer could easily print the pieces.
Results
"Globalization Partners did a great job working with our in-house design team to complete the language versions of a set of collateral materials for a community outreach program," says Kathy Venaglia, BVB's President. "They had a very efficient Acrobat PDF workflow which allowed us the opportunity to review and approve all pieces without any need for Chinese or Cyrillic fonts or software."
About BVB Advertising
Founded in 1990 and based in Reston, Virginia, BVB Advertising is a full-service advertising agency that provides print and broadcast advertising, creative placement, design and production, promotion coordination and collateral material design for a variety of local, regional and national accounts.