About the Website Translation Project
Globalization Partners International provided website translation of content for two Finest Resorts properties. GPI worked with the resorts' corporate marketing team, content management system provider and digital marketing agencies to localize the websites into French and Spanish.
GPI's Website Translation Services Included:
CMS Achiga platform review.
Pseudo-localization to test language support & workflows.
Glossary development.
Development of language style guides.
Search engine optimized keyword list research & localization.
Translation, editing & proofreading.
Copywriting/Transcreation.
Online quality assurance for published websites.
Strategy & process for localization of ongoing content updates.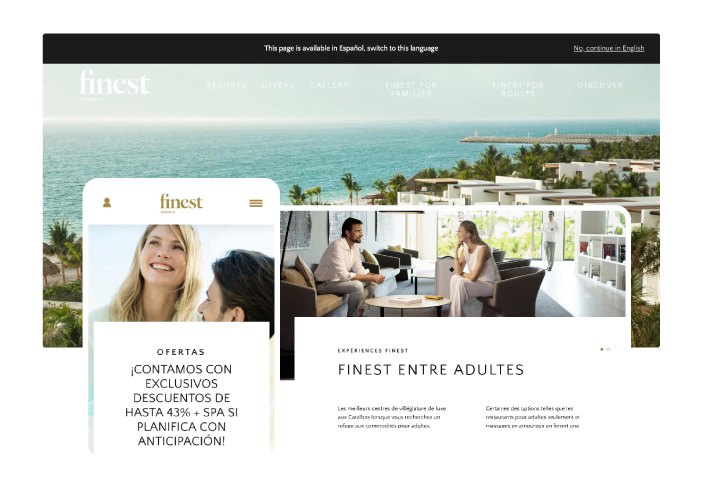 Results
"GPI's comprehensive expertise in both website translation and global digital marketing in addition to their ability to work with our resort-centric CMS platform Achiga, resulted in a successful launch of our new websites in French and Spanish," said Diego Miranda, Marketing Director, Finest Resorts. "GPI was very diligent in helping us utilize the best multilingual workflows and ensure our content was truly localized including optimizing for search engines across our target audiences."
About The Excellence Collection
The Excellence Collection is a resort group specialized in hotel
management. The company's three product lines include:
Excellence Resorts with all inclusive luxury for adults only.
Beloved Hotels with all inclusive boutique properties for couples only.
The contemporary Finest Resorts with all inclusive amenities for adults only and for families.