Hospice of Frederick County
Hospice of Frederick County
About the Website Translation Project
Globalization Partners International provided website translation services into Spanish for select content of the Hospice of Frederick County's website.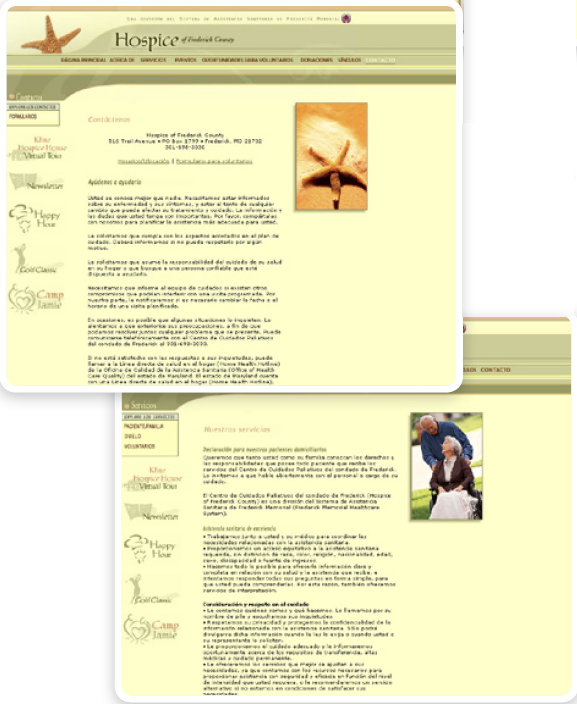 The site was basic HTML and graphics and GPI worked with the Hospice's interactive agency and ISP to launch the Spanish language version and ensure the client selected content subsets were localized.
Website translation services included:
Localization Kit Review, Analysis and Preparation
Project Kick-off Meeting
Subject Matter Research
Glossary and Terminology Development
Cultural Correctness Assessment
Translation, Editing and Proofreading
Localization Engineering
Localization of all Graphics
QA/Testing according to Client's Requirements
Client Review and Approval
Results
"GPI's team did a wonderful job on our Spanish site. We only required certain content and they worked with us on localizing these key content areas within our budget," said Laura Crampton, Community Liaison for the Hospice. "Their team knew the medical and health subject areas and worked very well with our ISP to get the site up and running."
About Hospice of Frederick County
Hospice of Frederick County, a division of the Frederick Memorial Healthcare System, is a specialized service for families who need expert help to care for a loved one facing advanced stages of illness. Their mission is to promote quality of life by providing comprehensive medical, emotional and spiritual support to terminally ill individuals and their loved ones.