INMED Partnerships for Children
INMED Partnerships for Children
About the Website Globalization Project
Globalization Partners International provided website globalization services into Spanish and Portuguese for InMed's corporate website. InMed was using a proprietary web content management system (CMS) to publish their English content and now needed to utilize the CMS to handle multiple languages. GPI designed a simple 6-step custom website globalization workflow in order to interface with InMed's proprietary CMS.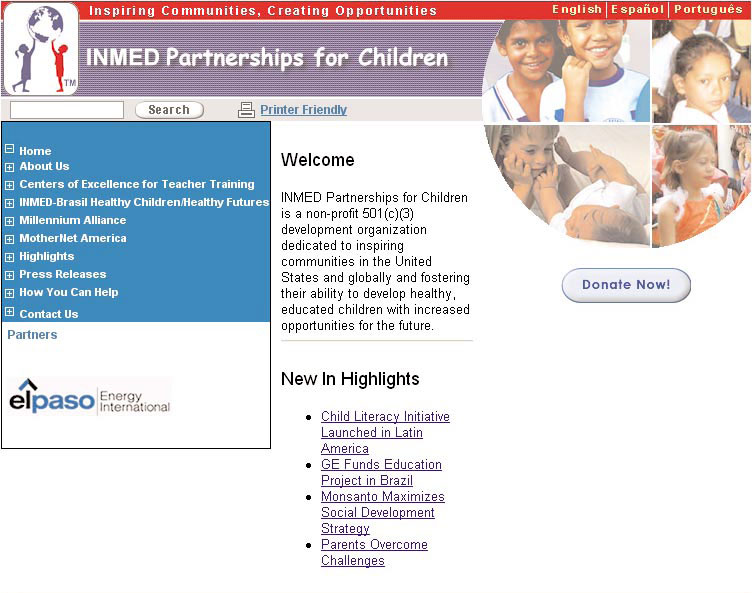 The website globalization workflow included:
Extraction of translatable text from the CMS.
Preparation of all files for glossary development, translation and editing.
Glossary development.
Localization of all text and graphics.
Importation of the translated content back into the CMS
Online quality assurance (QA) before the new content was published.
Translation Memory technology was used in order to provide InMed with consistency, cost-effective pricing on repeat text, and an easy workflow for updates and enhancements to the site. The work was completed in-house by GPI, including all workflow design, graphic localization, project management and translation. InMed was provided weekly status reports and chose to have review and approval opportunities at both glossary development and the online QA stages.
Results
"I was extremely pleased with the services provided by GPI", says Jill Friend, InMed's Marketing Director. "Their professionalism, thoroughness, problem-solving skills, as well as the quality of their work is top-notch. The localization services provided by GPI greatly facilitated the timely and hassle-free development of our Spanish and Portuguese web sites."
About INMED Partnerships for Children
INMED Partnerships for Children is a non-profit 501(c)(3) development organization dedicated to inspiring communities globally and in the United States, fostering their ability to develop healthy, educated children with increased opportunities for the future.