Inter-American Economic Council (IAEC)
Inter-American Economic Council (IAEC)
About the Website Translation
In order to keep their members and constituents up-to-date on the latest developments in the Western Hemisphere, the Inter-American Economic Council (IAEC) needed website translation to develop a dynamic, multilingual database-driven website their staff could update on a daily basis without delays, excessive website update costs, and without keeping a technical webmaster on salary full time. Their old static site, and the content workflow required to keep it updated, was simply not cost-effective or time-efficient. The IAEC had a limited budget, and in October of 2002 with two key events looming, had limited time to create a new site. The new website launch had to coincide with two key events for the IAEC which included a January 23, 2003 Annual Winter Award Gala and the Antigua and Barbados Business Roundtables on January 15-19, 2003.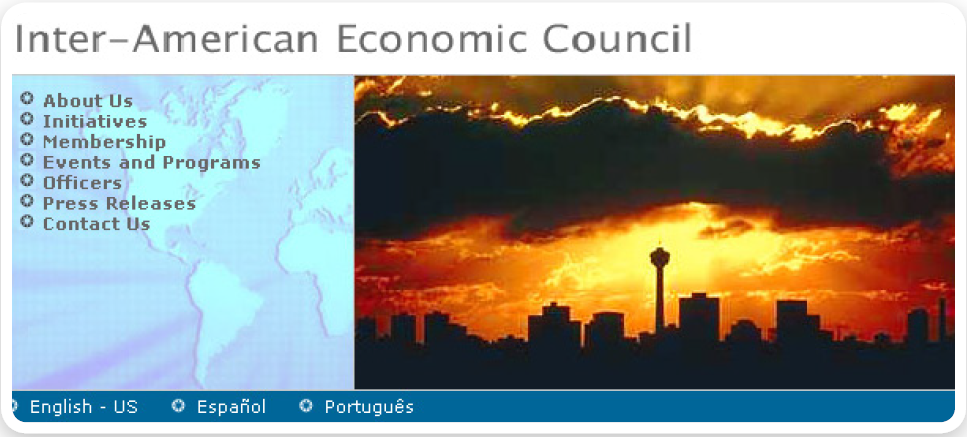 After researching website translation companies, the IAEC chose Globalization Partners International to design, develop and deploy their new website in English, Spanish and Portuguese. GPI gathered and reviewed all the IAEC's requirements and provided a comprehensive website translation proposal to provide a multilingual, database-driven website that was powered by a content management system (CMS) that non-technical staff could use from any location via a browser, and at a price that the small not-for-profit organization's budget could handle. The project involved the full design and development of the new website, from submission and approval of design comps, through localization of content into Spanish and Portuguese, and installation and training on the web content management system.
Results
"The quality and quantity of timely information we can now make available to our members in their native languages is an amazing goal realized. Current and potential sponsors, participants and members in Portuguese-speaking Brazil and over 20 Spanish speaking locales can now interact with the IAEC site in their native language." Barry Featherman, President IAEC.
About IAEC
IAEC is a Washington, D.C. based non-profit organization whose membership includes presidents, cabinet officials, central bankers, political leaders, country experts, academics and private sector leaders from British Columbia, Canada to Buenos Aires, Argentina.