About the Website Localization Project
Marina Bay Sands opened in 2010 and is a premier entertainment destination in Singapore and beyond, with its vibrant diversity of attractions and facilities. The vision was to build an integrated development that is timeless, a landmark that possesses a distinct identity which will distinguish Singapore from other cities. The property's web presence needed to be just as distinct and inspiring. The site needed to be available in seven relevant languages and be easily found in search engines by potential customers around the world. Globalization Partners International was tasked with website localization by designing, developing and deploying a new multilingual web presence driven by a content management system for the Marina Bay Sands in Singapore.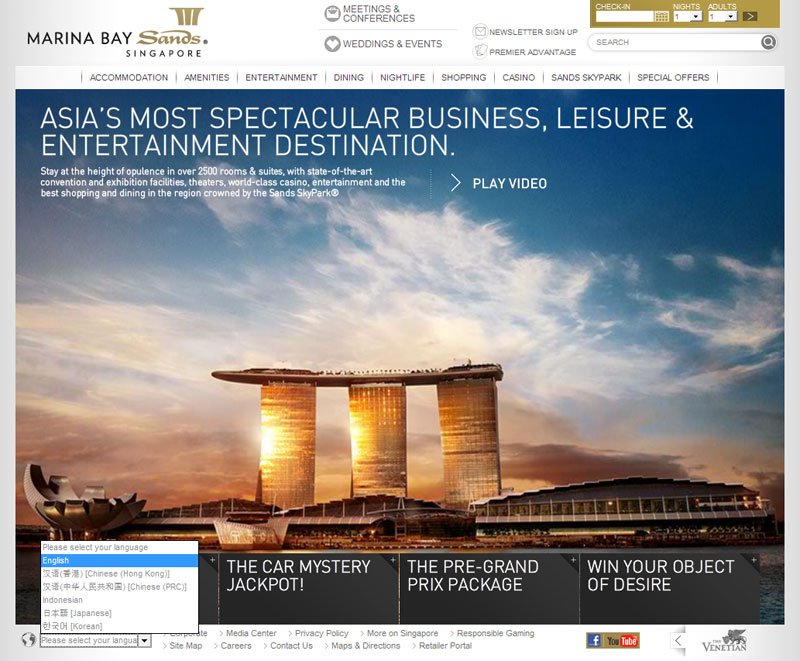 Results
Following best practices for website design, development and deployment, the client drafted very detailed requirements for the new site. These were generated from an understanding of the business requirements collected via interviews, focus groups, scenario maps and use cases, and then defined in a Functional Requirements Document.
GPI successfully localized and deployed a new multilingual web presence for Marina Bay Sands in English, Indonesian, Korean, Japanese, Simplified Chinese, Traditional Chinese and Thai.
About the Client
Marina Bay Sands is the leading business, leisure and entertainment destination in Asia. It features large and flexible convention and exhibition facilities, 2,560 hotel rooms and suites, the rooftop Sands SkyPark, the best shopping mall in Asia, world-class celebrity chef restaurants, a casino, Paiza Club for premium players and an outdoor event plaza. It will also have a museum and theaters in which "The Lion King" will be the first resident show.