About the Project
Globalization Partners International provided internationalization and localization consultation and services in order to fully globalize WorldInquiry.com's survey application.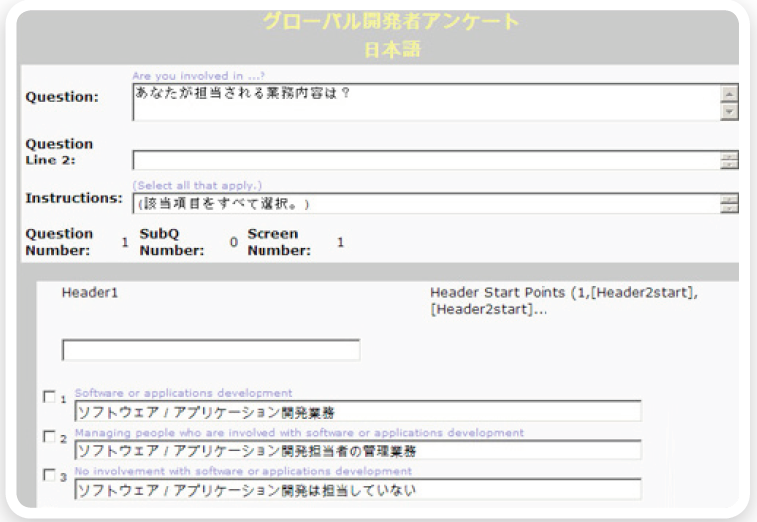 Upfront education on I18N and L10N was provided to WorldInquiry's development staff, as well as a full review and analysis of their source architecture, design, development and build processes.
The Localization (L10N) services included:
Localization Kit Review, Analysis and Preparation
Subject Matter Training and Research
Glossary and Terminology Development
Cultural Correctness Assessment
Translation, Editing and Proofreading of User Interface, HELP and Documentation Content
Localization of All Graphics & Screen Captures
QA/Testing According to Client's Requirements
Results
"Our web application had several mission critical internationalization and localization issues which GPI handled. They provided solid guidance and a methodology to both internationalize and localize our survey application," says John Adams, President of WorldInquiry.
"GPI's instructional skills facilitated a tremendous amount of knowledge transfer to our team, which was a prerequisite to the engagement."
About the Client
WorldInquiry.com provides "end-to-end" global web market research services for technology and B2B clients. WorldInquiry.com is a user-driven web research solution that automates virtually all aspects of the research process.
WorldInquiry.com has created, hosted, posted, tabbed, and reported results for dozens of web surveys on topics ranging from global trends in Java and telecommunications to program preferences for the Playboy Channel. Clients include InformationWeek, EE Times, the Channels group (Var Business, CRN), the former Communications Week, IDG, Ziff-Davis, the Wall Street Journal, and Business Week.