The International Cricket Council
The International Cricket Council
About the Glossary Development and Translation Project
A strategic focus of the International Cricket Council (ICC) is to promote awareness, participation and interest in the sport of cricket globally. As part of ongoing global initiatives to achieve this goal, the ICC identified several markets in which to actively promote the sport, educate potential fans and train young athletes. In order to effectively communicate and engage with its target audience, the ICC selected a series of resources for multilingual glossary development and localization in order to appeal to each of these markets, its members and current and potential fans.
The development of multilingual resources was prioritized as a key enabler to support participation growth, particularly within local indigenous communities that may not have a traditional connection to cricket. "We believe that providing resources in several languages to current and future cricket followers around the world will enhance cricket's global growth," said Tim Anderson, ICC's Global Development Manager. An analysis was conducted to help to prioritize which resources should be translated and into which languages.
Following this analysis and due to its valuable contribution to encouraging understanding and participation among indigenous populations, the "What is Cricket Glossary of Terms" was selected. The "Glossary of Terms" has been developed and translated into Arabic, French, German, Indonesian, Japanese, Portuguese Mandarin and Spanish. "This is an important step in cricket's strategic vision of becoming a bigger, better global game," said Mr. Anderson.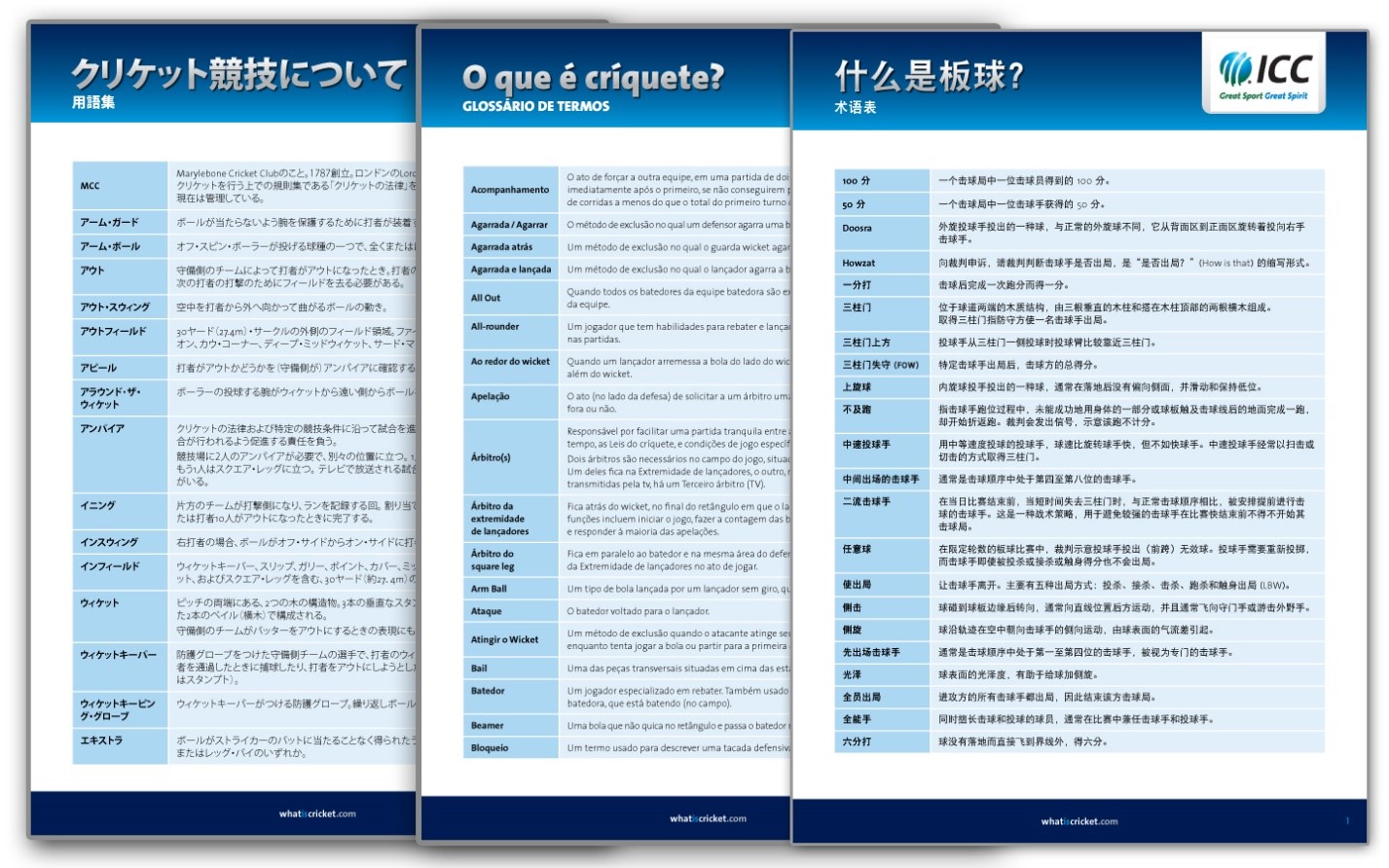 Results
Globalization Partners International provided glossary development and terminology management services to the ICC. Glossary development for a client is a critical first step in ensuring client and industry-specific terminology are collected, researched and accurately and consistently translated throughout the localization process. Terminology management is an important, ongoing effort to ensure new key terms are added and maintained in the client's glossary from project to project. Glossary development is a collaborative process and is best completed with client review and approval.
The glossaries were provided in InDesign and PDF formats to the ICC, however, other formats are available based on client-specified requirements including, Word, Excel, Trados, Multiterm, etc.
The localized glossary was presented to the ICC to review and approve the translation of all key terms
Approved glossaries were imported into the ICC's terminology memory (translation memory) database to ensure accuracy and consistency on all future projects.
About The International Cricket Council (ICC)
The International Cricket Council (ICC) is the global governing body for international cricket, encompassing men's, women's and youth participation and competition. The ICC currently has 106-member countries, including 10 Full Members, 37 Associate Members and 59 Affiliate Members. As a leading global sport, it is intended that cricket will captivate and inspire people of every age, gender, background and ability, while building bridges between continents, countries and communities.