Translation Services: Everything you ever wanted to know…
Companies, organizations and professionals around the world needing information on the translation industry can find many resources on the web. There are three (the big three as we like to call them) resources you should bookmark, that cover translation companies, translators, industry events and industry research:
MultiLingual Computing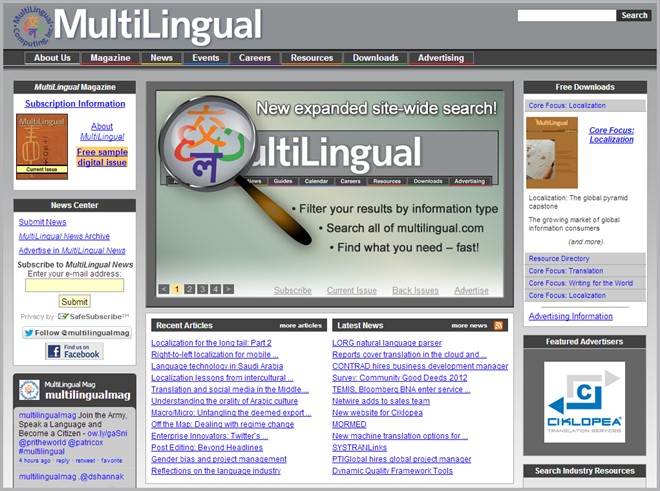 MultiLingual Computing Magazine is the main industry magazine published in the United States, which covers topics including website translation, document translation, audio/video translation, software translation, industry news and events, and language and technology in general. The magazine has several content venues including:
Common Sense Advisory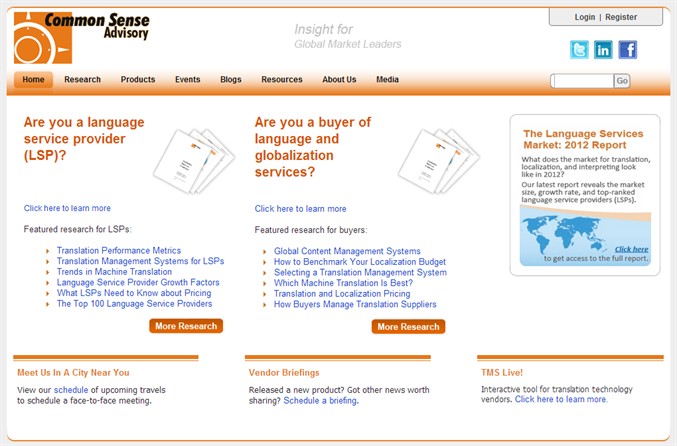 Not every industry has its very own research group/think tank, but the language and technology industry does with Common Sense Advisory. The independent Massachusetts-based market research company helps companies grow their global businesses.  Common Sense Advisory focuses on helping a wide range of clientele determine and deploy (operationalize, benchmark, optimize, and innovate) industry best practices in translation, localization, interpreting, globalization, and internationalization.
The Common Sense Advisory's founder and chief strategist is Don DePalma, a Ph.D. and 30 year veteran with experience in the fields of technology, language services, and market research. Don heads a team of very experienced localization professionals that provides in-depth research and consultation to a wide range of global companies.
Common Sense Advisory publishes an entire library of content products for companies who want to be successful in the global marketplace.  Here is just a short sampling of their library:
Annual Global Website Assessment Index, including "Top 100 Global Websites"
Annual language industry market sizing reports, including "Top 100 Language Services Providers"
TMS Live!, an interactive tool for translation technology selection
Reports on why localization matters to global businesses, including: "Can't Read, Won't Buy" and "Localization Matters"
Benchmarking reports, such as "Trends in Translation Pricing" and "Localization Maturity"
Practice-related reports for localization and translation buyers, including benchmarking, metrics, vendor management, project management offices, quality management, and purchasing models.
Practice-related reports for language service providers, including production models, market segmentation, hiring best practices, vertical market penetration, and regional opportunities.
GALA (Globalization and Localization Association)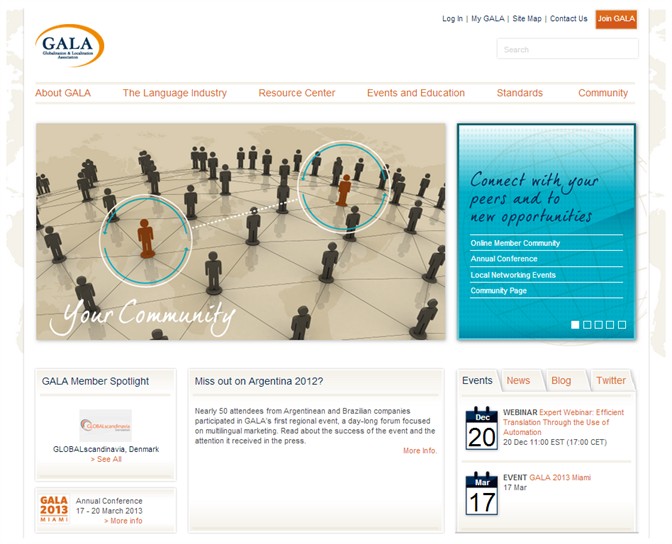 The Globalization and Localization Association (GALA) is the world's largest non-profit association for the language industry. GALA provides education, resources and research for international professionals and companies who need to use language and technology to succeed in global markets.
GALA members include translation vendors, localization service providers (LSPs), interpretation companies, globalization consultants, and language technology developers. While many of GALA's members are translation agencies, many members are multinational corporations that buy language services and technologies.
GALA is a powerful resource for all businesses that need to use language & technology to enter new markets.  GALA creates communities, advocates standards, educates, and advances technologies in support of its members and the language industry in general. GALA has some great information products as well and publishes and promotes newsletters, webinars, conferences and other networking and educational translation and localization programs.
GALA is well known for its language and technology events where industry leaders meet to network and share the latest best practices in providing translation services.  Upcoming events include: https://www.gala-global.org/conference/