Planning a Website Localization Project? Where do I start?
Thinking about localizing your website into different languages but have no clue what this type of website project entails or where to start? Whether you are a first timer or have experience with localization projects, this blog will provide insights on key considerations before embarking on a website localization (website translation) project.
Scope The Project:
In order to accurately scope a localization project for the costs, timelines and resources needed, you will need to consider the following:
Define your target markets and audience
What are your target markets? Do you have an existing foothold in these markets? When planning a website localization strategy one of the first steps is defining and prioritizing your target markets. Review your list of target languages for these markets and look to see if you find any overlap. For example, if Spanish is one of your core languages and you are targeting both Spain and South America, then you may consider whether you can use Universal Spanish and then tweak the content for each market or whether you need to maintain two versions of Spanish, one for Latin America and one for Spain.
Define your timeline
Once you have defined the languages and locales for which you want to localize your website, it is important to define your project timeline.  Assuming you starting point in a final English site with all content ready for translation, you can secure the timeline from your translation partner for localization, and then add to it your internal time required for getting files/content to your translation resources, client review and approval, uploading localized content and online QA or any testing you want to perform. Following project management best practices always build in some allowances for slippage in case certain tasks take longer than initially scheduled.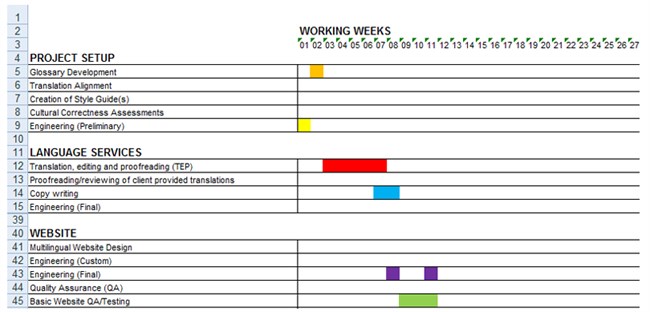 Define timelines for rolling out new content, campaigns or promotions – For example, if you are a hotel targeting Singapore and Mainland China, and you are aware that there is an increase in the volume of Chinese guests visiting during the Chinese New Year Holiday, then it is important to plan ahead which resources you need localized for that timeframe. This may be the form of updating and localizing menus for your Chinese guests, creating and localizing content for spa specials, in-room collateral, events etc.
Define your budget
In order to obtain a quote for localizing your website into different languages, you would need to provide your localization vendor with the following information:
Target Languages – advise your localization vendor of your key target languages and your timeline for rolling out each language
Estimated word count for existing content – Review your website's sitemap and identify which pages or sections require localization. Do this for each of your target languages. Work with your localization vendor to estimate word counts as accurately as possible but bear in mind that the figure you come up with may vary.
Estimated word count for new content, seasonal promotions, special offers and campaigns. Review your content calendar with your localization vendor and advise your vendor of the volumes to expect during these timeframes. Advise your localization vendor if your timeframes are strict or if you can be flexible.
Estimated number of images that have text which requires localization
Number of multimedia assets such as audio and video which requires  localization
Number of documentation assets uploaded to your website which requires localization such as PDFs, MS Office files etc.
Search Engine Marketing Requirements – Localization of your website goes hand-in-hand with Search Engine Marketing. There is no point in localizing your website into different languages if no one can find it. Clearly describe your digital marketing goals (both SEO and SEA) with your localization agency. Do you require SEO (on-page and onsite optimization) or do you plan to run SEA-search engine advertising PPC campaigns? What languages do you need your PPC campaigns localized into? Do you require localization support for your link-building campaign?
Social Media Localization Requirements – Define your social media goals and platforms. Do you plan to communicate in multiple languages using these platforms? Do you require localization support from your vendor for your Social Media Initiatives?
Review and Approval Requirements
Define your resources
Putting together your team is the most important step in the process of localizing a website. Your team will consist of professionals for a multitude of disciplines including content authors, editors, web designers, web developers, translators, project managers, and search engine marketing specialists.
Define your project team lead or owner
Define who will be responsible for creating the English source content for these markets.
Who is responsible for approving and signing off localized content in each target language? For each language you translate into, you should have a language lead to review and approve localized content delivered by your translation agency. Your language lead and lead linguist from your translation agency should work collaboratively to develop the right style and tone of voice that is representative of your brand for that target language.
Define your technical team including:
a. Content Authors and Administrators –

Define your content review and approval chain – Who is responsible for creating, editing, reviewing and publishing new content?
Who is responsible for packaging content to send to your translation agency for localization?
Who is responsible for reviewing and approving content localized by your translation agency?

b. Graphic designers responsible for sending open source files for images and multimedia content to your agency
c. IT Team – Define a main point of contact that your localization agency can liaise for IT related issues