GPI Tribute to Nelson Mandela
In recent days, people all over the world have been paying tribute to one of our generation's greatest civil rights leaders and freedom fighters, and rightly so.
Born on July 18, 1918 Nelson Rolihlahla Mandela was seen as a brave, relentless anti-apartheid revolutionary and impassioned philanthropist. Yet behind such strong labels, was a gentle and kind soul that could not and would not be silenced in light of injustice, oppression and racism. Few individuals in this century or last have been able to unite people from all racial, socio-economic, religious and ethnic backgrounds to fight together against poverty, world hunger and violence to the degree that Nelson Mandela has.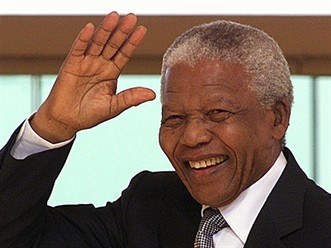 Mandela is leaving a huge void in a world that has united often to combat poverty and injustice, but has still a long way to go to end human suffering; his absence will be felt across the globe.
Most of us are familiar with Mandela's narrative of imprisonment, perseverance and rise to lead his people and a nation. Living in Johannesburg and pursuing his degree, he joined the ANC and became a founding member of its Youth League. Fighting early on against a racist and oppressive South African government, he was repeatedly arrested for seditious activities and in 1962, was arrested and convicted of conspiracy to overthrow the government and sentenced to life imprisonment during the famous Rivonia trial.
What followed were 27 long years in prison. His days were initially spent breaking rocks into gravel until his reassignment in January 1965 to work in a lime quarry. He was initially forbidden from wearing sunglasses which caused permanent damage to his eyesight due to the glare of the lime. Prison conditions were harsh, newspapers were forbidden, and visits and phone calls were allowed only once every six months. Smuggled news clippings landed him in solitary confinement more than enough times.
However the global village around Mandela did not stand by idly, and his popularity and significance grew throughout the years, leading to increased international pressure and support, including the Nelson Mandela 70th Birthday Tribute concert at London's Wembley Stadium which further cemented his status as a global hero and freedom fighter and condemned the plight of blacks in South Africa. When P.W. Botha's National Party permitted colored and Indian citizens to vote but excluded black Africans explicitly from the system, violence escalated and the country was on the verge of civil war. Mounting international pressure forced multinational banks to stop investing in South Africa bringing its economy to a halt. Years of increased economic and political isolation forced the South African apartheid regime to reluctantly loosen its stance on the ANC and Mandela, ultimately resulting in the release of all ANC political prisoners and finally Mandela's own release in 1990.
Immediately upon his release, he visited with international leaders to build support for sanctions against the South African apartheid government, ranging from French President François Mitterand, Pope John Paul II in Vatican City, UK's Margaret Thatcher and US President George H.W. Bush to Cuba's Fidel Castro and Indonesia's President Suharto. Ultimately he started working with President F.W. de Klerk to abolish apartheid and establish multiracial elections in 1994 when the previously banned ANC came out victorious. Nelson Mandela was elected first black South African in the very first fully representative democratic election the country had ever seen.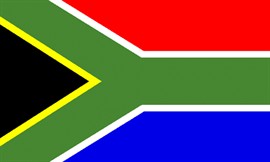 Mandela's goal had always been tackling the legacy of apartheid and institutionalized racism, as well as poverty and inequality with the ultimate goal of national reconciliation during the transition from apartheid minority rule to a multicultural democracy going as far as offering protection and representation to his former oppressors in " the Rainbow Nation".
So it's no wonder that even after retiring from politics in 1999, Mandela dedicated his life to a variety of charitable causes including his own Nelson Mandela Foundation, which continues to focus on combating HIV/AIDS. His popularity and statue helped South Africa win the rights to host the 2010 FIFA World cup – a feat that would have been deemed impossible a few short years earlier. But as Mandela said, "it always seems impossible until it's done".
Even though he won over 250 honors, medals and awards, including the Nobel Peace Prize in 1993 and the US Presidential Medal of Freedom, he was still denounced as a terrorist by critics and remained a controversial figure, so much so that the ANC was dubbed a terrorist group and Nelson Mandela's name remained on the U.S. terrorism watch list until 2008! Although the US State Department blamed it on a snafu, it still caused the US government embarrassment each and every time then Secretary of State Condeleezza Rice had to issue waivers for ANC members, including Nelson Mandela himself, to travel to the US.
Labeling himself an optimist, the world still marvels at the lack of outwardly anger, bitterness and resentment over the pain and suffering he and his people endured. He went on to fulfill his destiny and lead his life, his people and a nation with grace and dignity, and a spirit of generosity – inspiring millions of people around the globe to judge less and hate less, and instead do more, be more and love more. We should all follow in his footsteps.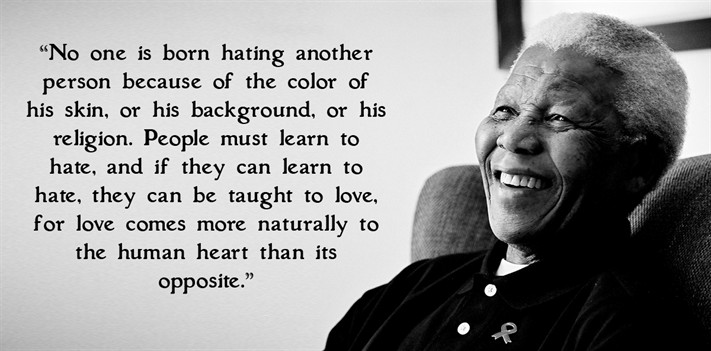 There are so many memorable quotes Nelson Mandela has left us with but this one exemplifies what unites us all in our humanity:
"No one is born hating another person because of the color of his skin, or his background, or his religion. People must learn to hate, and if they can learn to hate, they can be taught to love, for love comes more naturally to the human heart than its opposite."