Languages & Locales Newsletter: July to September Edition Now Released!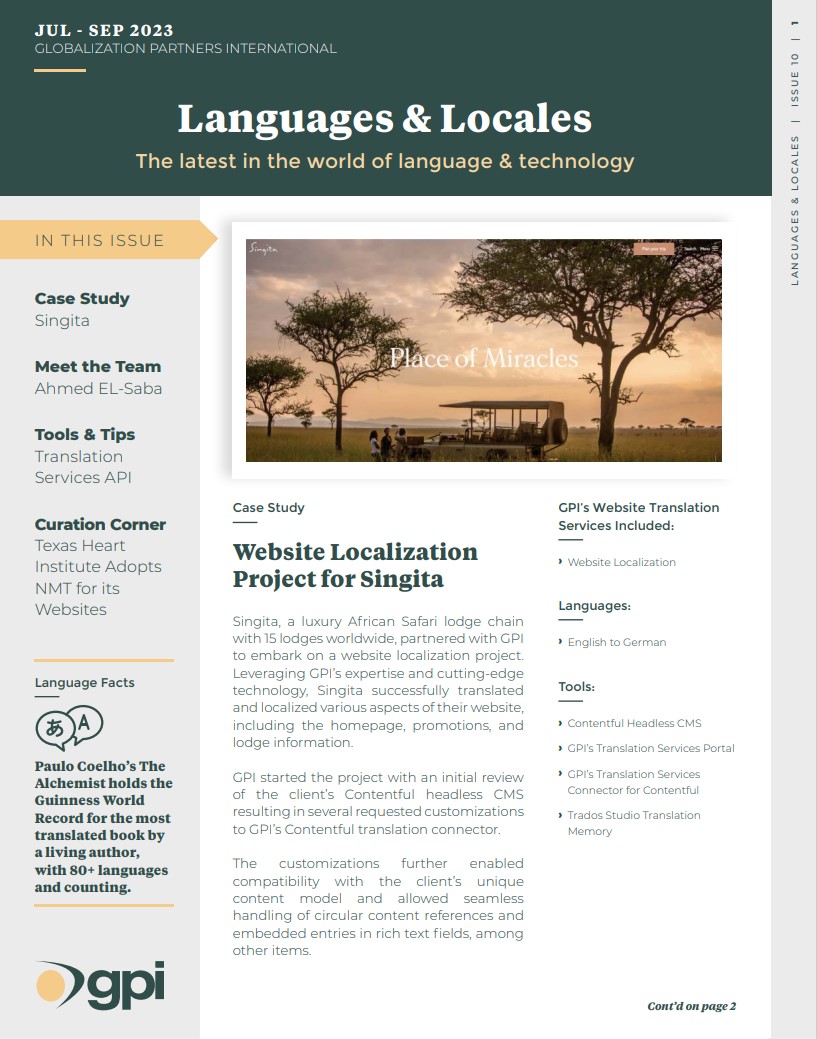 Do not miss July's issue of Languages & Locales. In this issue, we provide a website localization case study for Singita, a luxury African Safari lodge with 15 lodges worldwide. This project included customization of GPI's Contentful translator connector, based on the client's specifications, to facilitate the handling of the client's unique content model. This resulted in improved efficiencies for a seamless translation of the website.
In Tools & Tips, learn more about GPI's Translation API, this agnostic platform that can work with any type of system. The GPI Translation API can easily integrate with any application enabling clients to make use of our award-winning suite of translation services and tools and provides a flexible solution to accommodate different translation workflows. Developed by our team of engineers and developers, the GPI Translation API is another example of GPI's dedication to technology and making the process of creating and managing multilingual content easy for our clients.
In Meet the Team, take a moment to learn about GPI's own Ahmed EL-Saba, Director: EMEA Linguistic Services.
In Curation Corner, learn how the Texas Heart Institute is using neural machine translation (NMT) to provide health information to speakers of more than 100 languages through its website. The positive impact of providing important heart health information in a patient's native language not only informs but can also ease anxiety for patients. If NMT can be applied to medical and scientific research, collaboration and information-sharing across languages can open the door to quicker advancements and greater knowledge-sharing.
Are you ready to dive in? Read the Languages & Locales July – September edition now!
Subscribe here if you want to receive the upcoming editions of Languages & Locales.