Culture and E-Business in Japan – Infographic
If you are planning to do business in Japan, if you want to be successful in targeting the Japanese marketplace, it is important to understand the needs of your target customers, the consumer behaviors, the language and the key insights about the market.
This blog post released by Globalization Partners International contains the information for the Japanese market on Website Globalization and e-Business along with accompanying infographic, which covers a wide range of topics from language facts to website translation tips for Japan. All this information would help you enter the Japanese market more effectively and efficiently.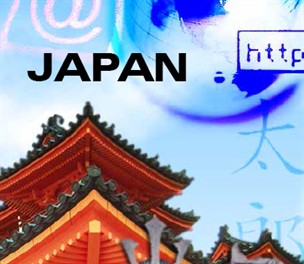 Facts about the Japanese Market
Including the capital Tokyo, Japan has a total of 47 prefectures (states) with a population of 125 million.
In terms of nominal GDP, Japan is the third largest national economy in the world, and fourth largest national economy in terms of PPP (Purchasing Power Parity). (Wikipedia)
With almost 100 million Internet users in 2013, Japan has almost 80% penetration. Japan currently has the third highest population of broadband internet users of any country in the world.
95% of Japan's population subscribes to mobile phones, and 81% of mobile users are mobile Internet subscribers. (TCA, Japan Statistics Bureau)
According to eMarketer, business-to-consumer eCommerce sales in Japan are expected to grow by approximately $50 million over the next five years to approximately $175 million. (emarketer.com)
86% of all Internet users in Japan visit online retail sites, among the highest in the world, ahead of the world average by 9%. (emarketer.com)
Rakuten is a major eCommerce leader in Japan. With annual sales over $4 billion, Rakuten is one of the largest Internet companies in the world. (Source: ComScore)
Japan's online audience tends to be older than the global average, with only 34% of Internet users below 35 years of age and twice the global average of users above 55 years. (Source: ComScore)
54% of Japanese mobile users are over 45 years old, the highest percentage among the Developed Markets. (Source: ComScore)
Culture Values in Japan
The Japanese culture is a multi-layered and complex system that has been developing within itself and forming new layers for thousands of years. Japan has a fascinating and multifaceted culture; on the one hand it is steeped in the deepest of traditions dating back thousands of years; on the other it is a society in a continual state of rapid flux, with continually shifting fads and fashions and technological development that constantly pushes back the boundaries of the possible.
Search Engine Optimization in Japan
If you attempt to launch e-business in Japan, in order to effectively target the Japanese online market, it is crucial to understand search engine optimization in Japan and the top search engines to focus on the Japanese consumer.
Top search engines in Japan:
Google (65.99%)
Yahoo (30.6%)
Bing (2.54%)
Baidu (0.26%)
Social Media in Japan
With the growth of global communications and marketing, you need to adapt your social media communication to different cultural audiences and locales. The report provides the key insights and top social networks for Japanese consumers.
Key insights from the digital landscape for Japan:
Microblogging is especially popular in Japan, and Twitter has been able to tap into this affinity. According to goo Research, in February 2013, 36% of the country's Internet users ages 10 or older used Twitter. That was only 3 percentage points behind Facebook penetration. mixi, a homegrown social network, placed third. (Source: emarketer.com)
YouTube is the most popular Japanese entertainment site in terms of unique visitors, but users spend 240% more time on NicoVideo than they do on YouTube. (Source: ComScore)
Japanese entertainment and online video sites are very popular, with Japanese Internet users spending almost twice the amount of time on these sites compared to all Internet users in APAC. Twitter reaches more users than any other social network in Japan. (Source: ComScore)
Top social media networks in Japan:
Facebook (45.17%)
Twitter (39.51%)
Youtube (4.71%)
Pinterest (3.45%)
Culture and Online Shopping in Japan
The following infographic provides several useful facts and insights about Japan. The infographic contains a handy graphical sampling of what's inside the report.

Our updated research report for the Japanese market on Website Globalization and e-Business along with accompanying infographic covers a range of topics from language facts to website translation tips for Japan.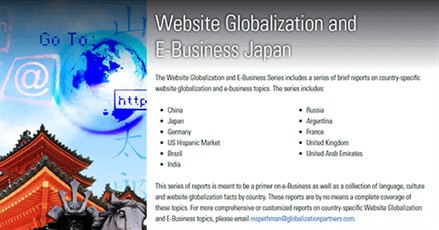 Doing Online Business in Japan
The Japan country research report is 14+ pages and provides useful information and statistics about the country and local consumers and market. The newly updated report for 2014 is available in PDF format and is free to download at: Website Globalization and E-Business Series.
Looking to sell your goods or services in Japan
If you are looking to expand into the Japanese market and have a website localization project in the works, this report is for you. First published in 2008 and newly updated for 2010, 2012, and 2014, the report contains tips and information on e-business, website translation and web consumers in Japan. The report also has a nice link library with useful sites and resources for those wanting to do business in Japan.