Business Etiquette around the World
Globalization is one of the best and fastest ways of growing your business, but it comes with certain challenges. Cultural differences result in different sets of business etiquette and ethical practices from country to country. Respecting and adopting these practices can lead to your business's success globally.
There is an ongoing debate over whether businesses should adapt to the local environment or if there should be a standard set of principles for business etiquette around the world. Globalization, social media and technology, along with factors like environmental issues and political conflicts, continue to influence business trends across the world.
The appropriate etiquette for business varies greatly from place to place and must be considered before entering into global markets.  I have compiled a few of the most important business etiquette tips for many of the popular regions for global business in the below sections.
Business in Europe
Although European countries are located close to each other and have common practices, it is important to know that their business cultures have many differences.
Here are some useful tips to keep in mind: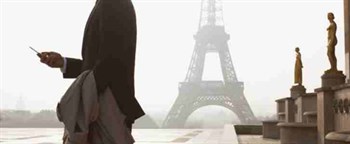 Germans do not like sudden changes in business plans, even if it will improve the outcome.
Negotiations and team work are highly valued in Denmark.
In France, speaking in French is appreciated as it a highly valued part of their national identity.
In Spain, people place an emphasis on their social life, rather than their professional life.
In the Czech Republic, do not schedule a meeting for Friday afternoon or during August.  Many Czechs leave town for the weekend after lunch on Fridays and many businesses are closed during August.
Note: Image Credit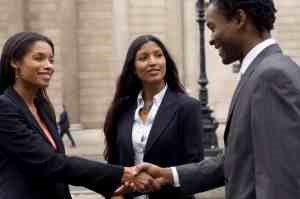 Business in Africa
Africa has a strong presence on the map and you may have an African business trip in your future.
Here are some useful tips to keep in mind:
When entering a social function, shake hands with the person to your right and then continue around the room going from right to left. Say good-bye to each person individually when leaving.
In the countries with colonial pasts, European etiquette is socially acceptable. For example, English manners in Kenya and Nigeria and Dutch manners in various parts of South Africa.
Soft handshakes are common across Africa. In countries like Kenya and South Africa, with postcolonial populations, you will see European-style handshakes. In Muslim countries, such as Morocco, men may hold handshakes so long that they become handholds.
Note: Image Credit
Business in Asia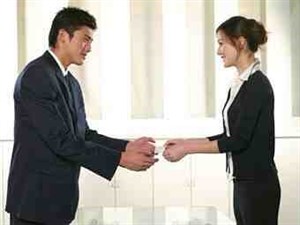 Unlike Westerners, Asians place importance on the group rather than the individual. In general, they conduct business, make decisions and socialize as a group.
Here are some useful tips to keep in mind:
Handshakes are a common greeting and are accompanied by a nod or bow.
Business cards with both your native language and the language of the Asian country you are doing business in are recommended.  Always include your title on the card.
Business cards are offered with both hands grasped between thumb and forefingers.
This culture respects personal space, so avoid back patting, putting an arm around someone's shoulders and hugs.
Note: Image Credit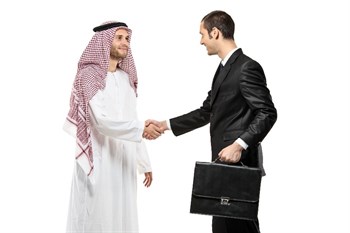 Business in the Middle East
People in the Middle East prefer to do business in person, with someone they trust. Relationships and mutual trust are necessary for any successful business interaction.
Here are some useful tips to keep in mind:
It is important to have a contact in the Middle East who can make introductions for you.
Face-to-face meetings are preferred.
When entering a meeting, general introductions will begin with a handshake.
Greet each of your Middle Eastern counterparts individually
The Middle East is known for its lavish generosity.
Note: Image Credit
Business in the United States
American are known for their friendliness and informality. People usually do not wait to be introduced, they will begin speaking with strangers in a group or when seated next to each other at an event or show.
Here are some useful tips to keep in mind:
In business, American greetings are usually informal.
Stand while being introduced.
Firm-grip handshakes are expected.
Maintain eye contact when shaking someone's hand.
Americans are very direct when communicating.
Conclusion
There are many factors that must be considered in order to successfully conduct business in a marketplace foreign from your own.  Learning the language and translating or localizing your products or services for your target audience is an important step but so is understanding the customs and etiquette of that market.
There is no standard of business etiquette around the world.  Each market and region must be individually researched to understand the proper way to conduct yourself socially and professionally.  Being well-prepared before you travel to a location to conduct business will show your dedication to doing business in the region and will help improve your chances of being successful.
Translation and Localization Resources
You may gain further insights into global e-business, global SEO, website translation and country specific cultural facts and related topics by reviewing some previous blogs written by GPI: