Language Education in U.S. Schools
One of the things I admire about countries outside of the United States is the emphasis on language education.  I have always envied people who were taught multiple languages at an early age and are multilingual.
I grew up in rural Montana, and the local Hutterites were fluent in German and taught their children German as a first language. This fascinated me. I loved hearing their accents.  Trips to the Hutterite colony for fresh produce coupled with a friend's exchange student from Germany are where my interest in languages began.
U.S. Schools
The elementary and high school I attended offered some Spanish and French. My fourth grade teacher taught us phrases in French and my elementary Spanish teacher taught us introductory Spanish.  But, it was nothing like my English classes where we were deconstructing sentences and learning about active verbs, direct objects and prepositional phrases.
In high school, I took additional Spanish classes and was able to expand my Spanish ability a little. We were only required to take one semester of a foreign language.  There was one Spanish teacher in the high school and other languages were taught on a computer based program, there were no options for non-European languages.
This isn't necessarily the same curriculum in all U.S. schools, but I know many students around the country have far less opportunities for language education than their peers worldwide.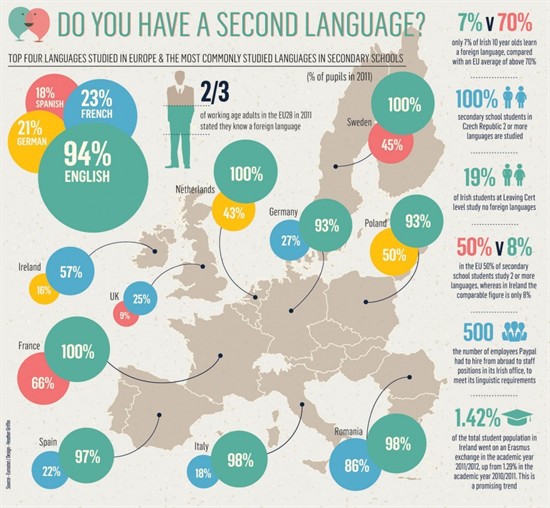 Global Language Education Statistics
I studied in Germany and Italy for a summer in college and I remember being so frustrated that there wasn't the same push for foreign language education in the United States like there was in Europe.  All the students in Europe I interacted with spoke two languages, at minimum.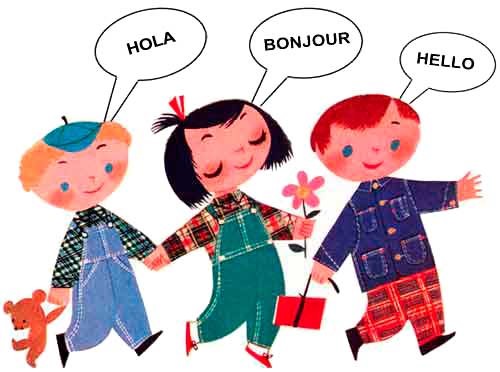 Language Advocacy Day
May 8th was Language Advocacy day, an annual event on Capitol Hill to gain more federal support for language education.  Educators from around the United States lobbied for language programs in U.S. schools.
According to a Modern Language Association report, enrollment in higher education language courses dropped 111,000 spots between 2009 and 2011, the first drop since 1995.  Amelia Friedman, founder of the Student Language Exchange, states that only 7% of college students in the U.S. are enrolled in a language course.
Language learning faces multiple challenges from teacher shortages to student interest and need. The prevalence of English being used globally, has resulted in a lower priority for language education.
In a recent article by Friedman, another challenge she mentions regarding language education, is the languages being taught.  Spanish and French instruction is commonly found, but languages offered beyond that varies greatly.  She states that world emergencies have an impact on what languages are taught in U.S. schools.  For example, Slavic languages during the Cold War and Middle Eastern languages during the War on Terror. This can become an issue as it takes years to become proficient and constantly changing what languages are being taught is not an effective way to teach or learn languages.
There are many benefits of language learning, including cognitive and academic benefits. One possible solution to the lack of education in the U.S. is to conduct dual-language courses in schools.  This would eliminate the need to hire separate language instructors.  According to Friedman's article, Bill Rivers, a prominent language lobbyist, cites strong evidence that shows students in dual-language programs outperform their peers in reading and math by fourth grade, regardless of race or socio-economic status.
Conclusion
In this current age of globalization, language skills are vital.  The world is becoming smaller and smaller and the need to communicate across borders has become necessary and expected. Companies are now competing in a global marketplace and translation and localization services are a common piece of business strategies. Rivers claims languages are not a "nice-to-have," they are a "need-to-have."
Language proficiency is a life-long task.  Language skills are like muscles that need to be exercised to avoid atrophy. If you don't use it, you will lose it.  And it will take much less time to lose than it took to gain. I hope that U.S. schools will gain more support for language education programs and incorporate more of them into their curriculums. Studies show students will perform better academically and it will put them in a better position to compete with peers worldwide as they begin their careers.