The Importance of QA for Translation Projects
Quality assurance (QA) for translation is preventing mistakes or defects and avoiding problems when delivering localized and translated content to customers.
There are two primary types of QA for localization: LQA and FQA. LQA is linguistic quality assurance and FQA is format quality assurance. LQA examines the linguistics to make sure the target language is being relayed correctly after the document has been translated. Any linguistic changes are made and then the FQA checks both the linguistics and the format. Include room in your translation budget for QA to make sure your translated content is accurate.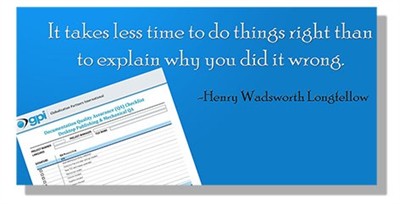 QA Process
The people in charge of QA will take a step back and look at the entire project holistically before diving into the individual pieces. They are looking to answer questions like: "does the target language document have the same style, tone and context as the source language document?" and "does it accurately convey the same meaning?"
Then there is a page-by-page review. The FQA reviewer has an eye for detail and goes line by line to make sure things are not missing, like truncated text, chapter sections, sentences still in the source language, wrong product numbers, missing images, etc.
Elements such as bolded, italicized and underlined text all relay emphasis. This message needs to come across to the end-user. FQA is responsible for checking that all of these elements are correct.
FQA should be done after every round of changes, whether it be format or linguistic changes.
Links and cross-references are something QA reviewers always check. You don't want to be reading a 500-page document and discover when you click on Chapter 4 in the TOC you get redirected to Chapter 10 or find out a figure has been omitted from the List of Figures TOC.
Footers and headers sometimes get ignored as well. FQA looks at these carefully to make sure they are positioned correctly and the product number, revision date, target language, etc., are all accurate.
In-country review (ICR) is commonly missed or skipped for translation projects, but ICR is an essential part of the QA process and shouldn't be omitted. Clients should have in-country reviewers on-hand who are experts in the product, brand, target language and target locale. A style guide should be provided to help with terminology, glossary and guidelines to make sure the message is received. QA should also check that these ICR changes have been implemented correctly.
Summary
Translating and localizing content for your documents, websites, software, etc. is a complicated process with many moving parts. When done correctly by a qualified translation services agency, translation can have potential for high ROI. But it is also an investment in both money and time, so do your due diligence and make sure your translation projects are done correctly. Quality assurance of your translated content will ensure your brand's message is correctly conveyed to your global audiences.