African Union Launches All-Africa Passport
The African Union (AU) is preparing to launch an electronic passport (e-Passport) at the 27th AU Summit in July in Kigali, Rwanda. This new all-Africa passport is part of Africa's Agenda 2063, which is "a global strategy to optimize use of Africa's resources for the benefits of all Africans."
The passport project, first agreed upon in 2014, has the aim of promoting intra-Africa trade, integration and socio-economic development, by allowing free movement of people and goods and services.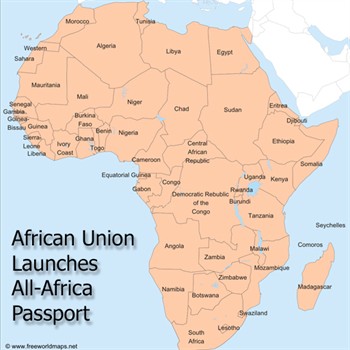 The e-Passport will permit any AU passport holder to travel to any of the 54 AU member states, without needing a visa. It will first be available to AU Heads of State and Government, Ministers of Foreign Affairs, and the Permanent Representatives of AU Member States based at the AU Headquarters in Addis Ababa, Ethiopia. It is scheduled to be available to all AU citizens in 2018, with the goal of visa-free travel for African citizens within the African continent by 2020.
A primary benefit of free travel and trade is creating a common market across the continent, similar to the European Union. However, skeptics of visa-free travel argue that it would make it easier for terrorists, human traffickers and drug smugglers to move across borders and it could cause a public health crisis by spreading diseases more rapidly across a borderless continent.
In spite of the doubts and concerns, the Chairperson of the African Union Commission (AUC), Dr. Nkosazana Dlamini Zuma calls the move a "steady step toward the objective of creating a strong, prosperous and integrated Africa, driven by its own citizens and capable of taking its rightful place on the world stage."
To read more, please see: The opposite of Brexit: African Union launches an all-Africa passport