GPI Sponsors Translators without Borders
GPI is pleased to pledge our support to help humanitarian translations reach more people around the world by continuing to be a bronze sponsor of Translators without Borders.
Translators without Borders (TWB) provides people access to life-saving information in their own language by connecting non-profit organizations with professional translators, building local language translation capacity, and raising awareness of language barriers.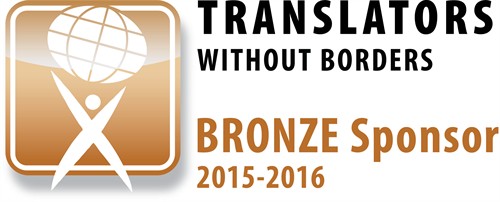 Since 2011, TWB has translated over 30 million words in over 150 languages for humanitarian non-profits worldwide. They currently translate over seven million words per year, working with over 3,200 translators around the world. TWB focuses on crisis response, development, translator training and advocacy.
Examples of TWB's work include:
The Words of Relief Program.
Simple Words for Health.
In response to the European refugee crisis in Greece and the Balkans, TWB trained 40 humanitarian partner staff and volunteers in translation and interpreting in a humanitarian crisis.
The HEAT Project: The Health Education and Training (HEAT) project from The Open University was created to train 250,000 frontline healthcare workers across sub-Saharan Africa by 2016.
Commenting on GPI's decision to become a sponsor, Natalie Williams, Digital Marketing Manager, said: "Translation of educational, health and crisis relief documentation can improve quality of life and even save lives. This shouldn't be denied to anyone. GPI is happy to help provide language resources to thousands by continuing to sponsor Translators without Borders."
GPI is happy to have been a sponsor to Translators without Borders for the last six years.
Translators without Borders:
To learn more about this great organization, Translators without Borders, please: