Reaching China's Social Media Networks
The Chinese social media landscape is huge. In fact, it's the largest in the world and presents a tremendous opportunity for companies going global to tap into a new market.
In 2016, it is expected that 37.33 percent of the Chinese population will be accessing social networks, which translates into 646.71 million Chinese internet users with access to social networks. (Source: Statista).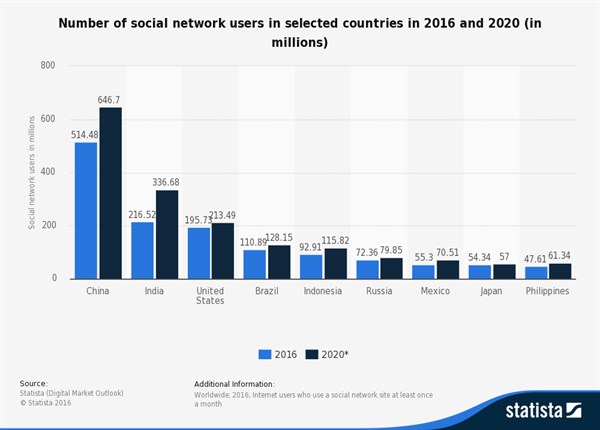 Source: Statista
Portland-based customer profile-management provider, Janrain, says, "Brands that aren't investing where Chinese users are spending their time are missing a critical opportunity to connect and influence purchase decisions."
That would mean translating your website into Mandarin or Cantonese (or simplified Chinese) as a first step into the Chinese market, but since they don't allow Facebook or Twitter, what are your social media options?
There are many, but the main social media platforms are: Tencent's QQ and WeChat, RenRen, Sina Weibo, Momo, Douban and Baidu Tieba.
Tencent's WeChat is China's increasingly popular messaging app with 762 million Monthly Active Users (MAUs) in 2016 (Source: China Internet Watch). Tencent's QQ is regarded as the most valuable social media brand in China with almost one billion MAUs. (Source: Linkfluence.com).
Sina Weibo, China's equivalent of Twitter, has 261 million users and Momo, which started as a dating app, now offers more services and has around 78 million MAUs.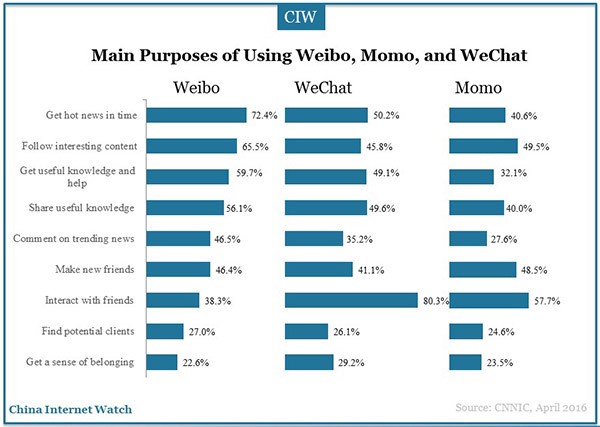 Source: China Internet Watch
All of these are used by both local and global brands to reach consumers in a variety of ways. For instance, social graph data can help marketers leverage fan and follower networks of their target audiences, or, as WeChat did, offer a loyalty card as a customer relationship manager in their app to help users find discounts, promotions, rewards and nearby locations of retail stores.
Chinese Consumers are influenced by Their Peers
Research has shown that 38% of Chinese consumers make product purchase decisions based on recommendations they read on social networks. (Source: Janrain.com). This makes online community networks such as Baidu Tieba (over 200 million account holders) and Douban, a review-based social network, viable marketing channels to influence consumer buying decisions.
Chinese social media platforms offer huge opportunities for international businesses, but the platforms will be hard to reach and maintain as all of the content posted and managed there would need to be in Mandarin (the prevalent dialect in most of China) to reach the majority of users.
Also, all sites are subject to China's strict censorship law, so again, you need native speakers to ensure all content follows the guidelines, or you'll see your account suspended and a global marketing opportunity lost.