News: The Stressful Task of Simultaneous Interpreting at the UN
As the General Assembly of the United Nations wraps up for another year, you may be wondering how the organization manages the massive task of managing simultaneous interpretations for all the member nations.
All UN interpreters need to have a first-level degree from a university or institution and take a competitive examination in their main language, known to be incredibly tough. According to the UN, during the exam for English interpreters, candidates must interpret three speeches (each five to ten minutes long) of which, increase in difficulty in terms of complexity and how quickly it is delivered from the source language.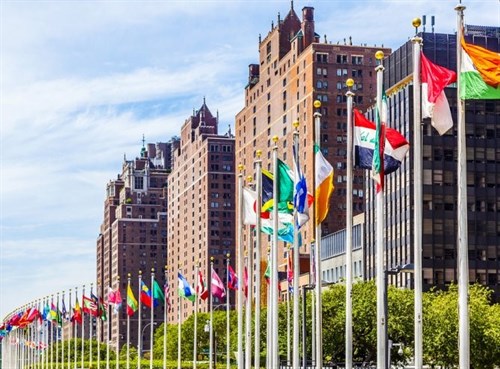 Excellent passive comprehension of their two source languages
Accuracy in interpretation into grammatically correct English
Ability to construct complete sentences
An understanding of appropriate style and register
An ability to keep up with speed
Intelligent editing of logically redundant words and phrases
Ability to cope with difficult or dense passages
Good diction and delivery
Writing for The Guardian, Russian to English interpreter Helen Reynolds-Brown says working as an interpreter for the UN is intense and often stressful because the communications matter to people and they must get it right.
Hossam Fahr, who is the head of the UN's interpretation service, told CBC.ca that there are 128 interpreters for the six official languages of the UN. These are English, Arabic, Spanish, Russian, Chinese and French. During busy times, such as during the General Assembly, the number of interpreters needed can rise to 200. Fahr says they typically bring in interpreters from other UN duty stations, such as from Geneva, Vienna and Nairobi. World leaders are also allowed to bring in their own interpreters.
Fahr says a good interpreter is someone who "never lets the words get in the way of the message." During his very first meeting as "a full-fledged interpreter" at the U.N. 34 years ago, Fahr was interpreting from Arabic into English in the Special Committee on Decolonization, when he said "the exploitation of small nations is one of the lofty goals of the United Nations Charter." The delegate had actually said the "independence" of small nations.
Fahr explained that the two words are incredibly similar in Arabic and are only differentiated by a single sound. Rasha Ajalyaqeen, the UN's Arabic section chief told CBC.ca that a 'word is like a bullet: once it's out, it cannot be retrieved or replaced".
To read more, please see: 'To err is human' – comical gaffes and quiet triumphs of a UN interpreter from CBC.ca and How I Became a UN Interpreter from The Guardian.