News: Panasonic Creates Megaphone to Automatically Translate Japanese into English, Chinese and Korean
In order to assist Japanese companies who are facing increasing numbers of foreign visitors, the Panasonic Corporation will begin offering a megaphone capable of automatically translating Japanese into English, Chinese and Korean. This megaphone will be available on December 20th for less than $180 USD per month for a three year contract and is targeted to corporate customers.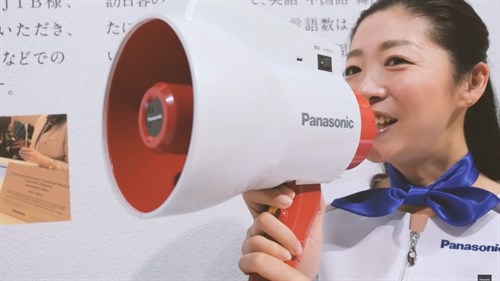 There are 300 preset Japanese phrases on the megaphone. The phrases were primarily selected for train stations, airports and other areas tourists frequent. These locations have a need for speedy announcements like, "your flight has been delayed" which is what the megaphone is aiming to address.
Panasonic claims the device is user-friendly and can even function in times of emergencies when there is loud background noise. A user speaks into the megaphone, and it translates what was said instantly into English, Chinese and Korean through its speaker.
Bloomberg reports that it was developed in preparation for the 2020 Tokyo Olympics and will eventually work in real-time using cloud-based translation software. See this Bloomberg article to watch a video of the megaphone in action.
Users can add new words or phrases and get updates by connecting to the internet.