Globalization: One Belt One Road Initiative (OBOR)
There are varied opinions regarding the One Belt One Road (OBOR) initiative. But at the end of the day, I believe creating a clean path to trade is only a positive outcome for the consumer and the business partners involved.
The OBOR initiative will be a trade channel over land and sea from China across Asia, the Middle East and continuing across Europe as a modern-day Silk Road. The path is not final as it requires many countries and their governments to agree to participate.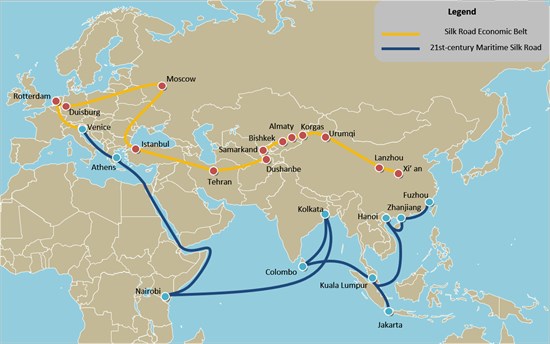 The initiative will be heavily financed by China in many locations, which will include Chinese cultural centers and schools to bring awareness of China's culture and beliefs. The effort is projected to cost over $1 trillion, but I expect this will be a conservative number when all is said and done.
While first announced in 2013, the initiative is still a long way from completion as many details have to be worked out among the many governments involved. It is not expected to be completed until 2049. This is quite a long time out, but for a country like China they are comfortable with long range planning and seeing the prize in the big picture.
There will certainly be countries not participating or that do not want to work with China directly. For instance, China is directing the path around India who has conflicting interests with China. But in such cases, they can develop their own pathways with other countries and perhaps merge their pathway into the overall path.
While the completion is targeted for 2049, the actual work has already begun in some places. Pakistan is on board and working with China as they have established a segment of their portion of the land passageway.
Western countries may view the expansion of China across Asia to Western Europe as competition for global influence. But it's the same thing the U.S. and Western European countries have done over the past couple of centuries. The open channels should only help build common interests to secure free trade among all countries involved and minimize political and military conflicts. In theory, the common interest may help save on collective military budgets to help pay for the initiative.