About the Software Internationalization Project
Globalization Partners International provided Chinese software internationalization (I18N) consulting for an application which runs on the IBM iSeries (AS/400) platform. The I18N consultation involved a comprehensive discovery and assessment on proper Double-byte Enabling (DBE) of the SHAW system so the application could input, display, print and process DBCS data (Simplified Chinese).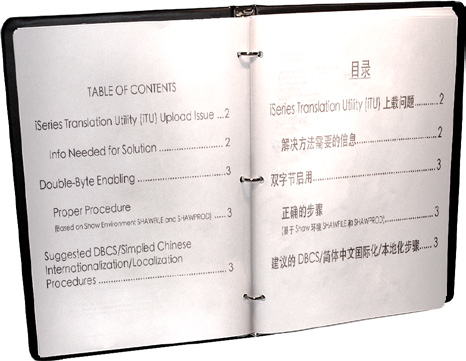 Issues such as file extraction from iSeries OS/400 5.2 through recommended workflows for literal translation were covered. The software internationalization consultation was completed both onsite and offsite by GPI's Chinese internationalization professionals.
A comprehensive report detailing the following was provided:
Proper setup of the TTT environment for the project.
Performing extraction on the SBCS SHAW application.
Download methodology using TTT.
Double byte enablement for the SHAW system.
Re-extraction of literals from the newly DBE SHAW environment.
Download newly TTT-created files to the PC.
Run a TTT/PC automatic translation on the files extracted from the DBE SHAW environment.
Uploading the files into the appropriate file in the TTT work library.
Perform the insert, using the TTT/400 environment that was setup for the DBE SHAW environment.
Create/compile DBCS SHAW system.
DBCS SHAW system installation testing.
DBCS SHAW system unit testing.
Results
"GPI's software internationalization expertise in the double-byte languages was extremely comprehensive," says Sabrina Lange, MRP & Technical Director. "Their Chinese engineering staff worked very well with our team both onsite and offsite, and fielded all of our questions on a myriad of iSeries double-byte issues."
About The Shaw Group Inc.
The Shaw Group Inc. is a leading global provider of engineering, procurement, construction, maintenance, fabrication, manufacturing, consulting, remediation and facilities management services for government and private sector clients in the power, process, environmental, infrastructure and homeland defense markets. The company is headquartered in Baton Rouge, Louisiana, and employs approximately 15,000 people at its offices and operations in North America, South America, Europe, the Middle East and the Asia-Pacific region.