GPI Releases RightNow Connector for Expanded Global CRM
RightNow offers a suite of products that help better engage customers through an improved web experience, social experience and contact center experience. GPI, the translation services agency, has developed and released a powerful plug-in that allows RightNow customers to export content for translation with just a few clicks of the mouse.
In this swiftly changing global economy, it is critical to stay on top of the latest tools that can improve your customer experience, not only domestically, but across all of your significant global markets. This blog touches on the highlights of this exciting new way to use RighNow to swiftly move content into the translation/localization process. GPI is taking steps to ensure that, as your preferred language services translation vendor, we offer competitive solutions in this dynamic business sector.
RightNow Add-Ins
The RightNow Connect Desktop Add-Ins allows users to extend the reach of the RightNow agent desktop by creating custom controls, components and applications that live within the desktop. These components can be added to the different visual areas of the agent desktop such as the application menu, status bar, workspaces or navigation pane.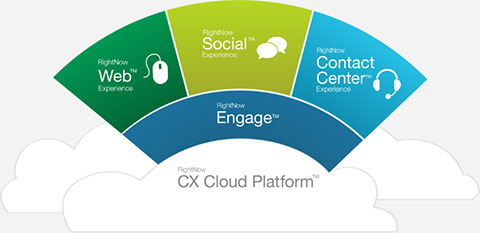 RightNow Translation Add-In for Multilingual Web Experience
RightNow CX is a powerful platform, but without an Add-In, multilingual web content management would require manually cutting and pasting from various sections from within the RightNow desktop client to export it when you need to extract your content for translation for your translation agency.
Without the RightNow connector, the following steps would be required:
opening an Answer
select the first tab (Question)
switch to source view
copy the content into some document
then Save
These steps would have to be repeated for every tab on an Answer and then also, for every answer. This procedure is error prone; you have to keep a track of what you copied, where, etc. And of course, you have to repeat the whole process, in reverse, when you receive your translations back. And this is just one of the issues for translating content from RightNow, as we aren't even examining issues regarding attachments, internal links to other answers, etc.
The improved process with GPI's RightNow connector
GPI's translation Add-In for RightNow enables users to export and import answers, attachments, links, products, categories, and dispositions with just a few clicks.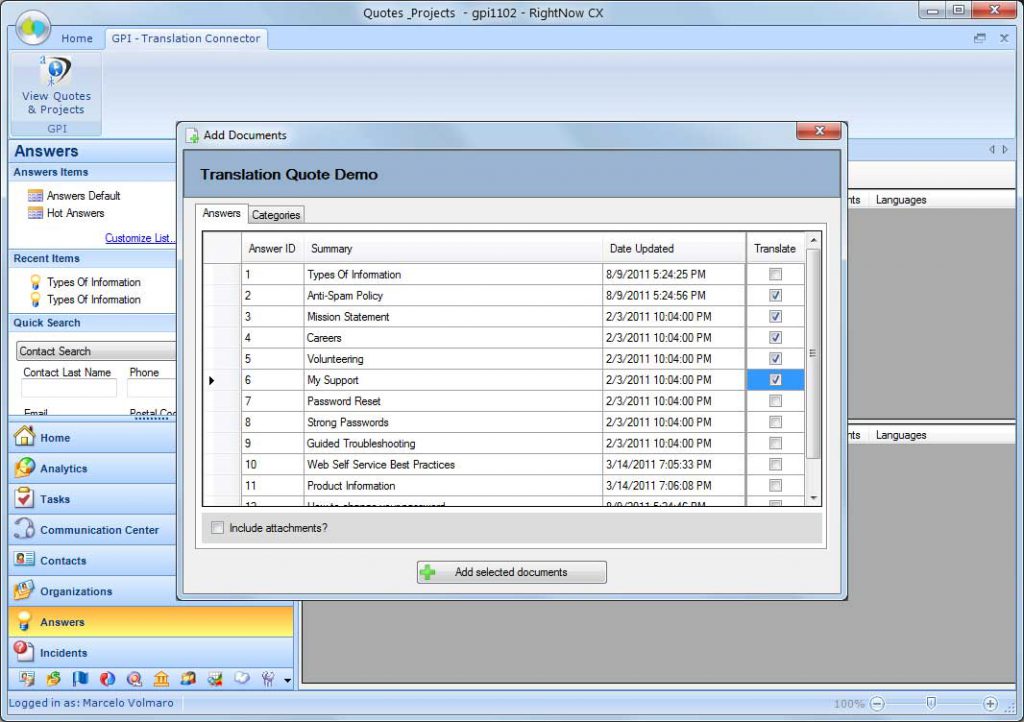 This Add-In is built as part of our services to ensure that RightNow CX users can initiate translation workflows with a single click and gain access to an array of reports to track and manage global translation projects through GPI's Translation Portal. All of this is done seamlessly from within RightNow desktop client.
RightNow Connector Add-In Features:
Easy integration with RightNow client
Enable seamless content translation capabilities all within the RightNow desktop application
24/7 communication with GPI internal systems
Simplified export/import process
Manage quotes/projects: Create new quote, send for quotation, quote ready, project status, project finished
Add/Remove answers/attachments/Products-Categories, etc. from open quotes.
Quotes, proposals and a wide range of project materials available for download
Dashboard to view status reports, schedules and project task lists
To utilize the GPI RightNow Add-In to help translate your Web Experience, you can go to GPI's Translation Services Connector Library or download the RightNow connector brochure.
Further GPI Resources on Connectors and Website Development
GPI offers custom WCMS Connectors to a variety of web content management systems in order to streamline localization workflows and access to translation project information across your enterprise. Connectors and Plug-In's include:
Translation for Ektron CMS
Translation for EpiServer CMS
WordPress Translation Plugin