Language Translation and Oracle-RightNow Client Relationship Solutions (WCS): Part I
RightNow CX, a leading provider of web customer service solutions offers a suite of products that help better engage customers through an improved web experience, social experience and contact center experience, all delivered via the cloud. With more than ten billion customer interactions delivered, RightNow is the customer experience fabric for nearly 2,000 organizations around the globe. (See www.rightnow.com)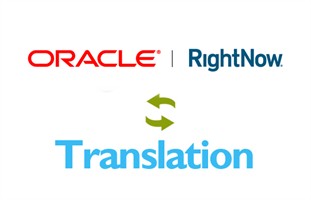 Without a doubt, one of the most effective ways to build a relationship with customers is to speak to them in their language. If you look at the fundamental components of Web Customer Service as listed
in Gartner's Magic Quadrant Report for Web Customer Service, it is easy to see how native language interactions would greatly enhance each.
Knowledgebase for self-service –providing translated content such as FAQ's, searchable knowledgebases, and support documentation in a multitude of languages including Arabic, Chinese, Portuguese and Spanish, to name a few, will allow current and potential non-English speaking customers to embrace your products and service offerings thereby encouraging further salesand current customer satisfaction.
Email response management-being able to receive and respond to emails in any language is a critical component of customer service. Establishing true language translation and handling capability, not raw machine translation, is a must to handle email requests. "The difference between the right word and the wrong word, is the difference between lighting bug and lighting bolt" (paraphrased from Mark Twain, Letter to George Bainton, 10/15/1888)
Web chat –text chat agents with language skills is a must.  Starting a dialog with a customer in their language of choice or necessity is the first step in solving any issue.
Collaborative browsing –localized websites will make browsing possible for customers who don't speak or read English.  Helping navigate through these localized (language version) sites by simultaneous browsing will assist your customers with filling out forms, filling up shopping carts and filling in payment gateway information.
Virtual assistant – yes, just as you need help desk and web and product/service support professionals who speak the languages of your customers and potential customers, virtual assistants (humanoids, avatars, etc…) should be multilingual.
Video Services –localized audio and video is important to reach and to guide customers in the same engaging manner as your English videos
Mobile customer service with SMS – Sending notifications and requesting information via mobile device or smartphone in your customer's language is the only way to ensure your message is read and reacted to.
RightNow Website Translation Connector
GPI launched its new RightNow Translation Connector in December 2011 which enables users of RightNow to initiate translation workflows with a single click and gain access to an array of reports to track and manage global translation projects through GPI's Translation Portal.
The connector is a plug-in that the user can install on the client side that extends the standard RightNow client UI. It allows users to send content (Answers and Attachments, Products/Categories/Disposition, etc.) for translation, manage quotes (add/remove content from open quotes) and import back completed translations.

The translation connector features:
Easy integration with RightNow client
Enable seamless content translation capabilities all within the RightNow desktop application
24/7 communication with GPI Translation Portal
Simplified export/import process
Manage quotes/projects: Create new quote, send for quotation, quote ready, project status, project finished
Add/Remove Answers/Attachments/Products-Categories, etc. from open quotes
Quotes, proposals and a wide range of project materials available for download
Dashboard to view status reports, schedules and project task lists
To utilize the GPI RightNow Add-In to help translate your Web Experience, you can go to GPI's Translation Services Connector Library or download the RightNow Connector Brochure.
Part II of this blog series will provide a quick start guide to the Translation Services Connector.
Translation Connectors and Plugins
GPI offers custom Translations Connector Library to a variety of web content management systems in order to streamline localization workflows and access to translation project information across your enterprise.
Translation tools: