Content Strategy at Adobe Day – Lavacon and Localization World 2012
I had the privilege to attend Adobe's preconference workshop "Adobe Day" at the Lavacon Content Strategy conference in Portland, Oregon last week. For a list of speakers, thought leaders and attendees, please check out Adobe Day at Lavacon.
The theme was accurately summarized as "The future of TechComm is no longer in the future", and the half day workshop included discussions on:
Adopting structured authoring
Maximizing content reuse
Quality control
Reducing localization time and costs
ROI on "good" documentation
On demand for the channels, formats and screens of choice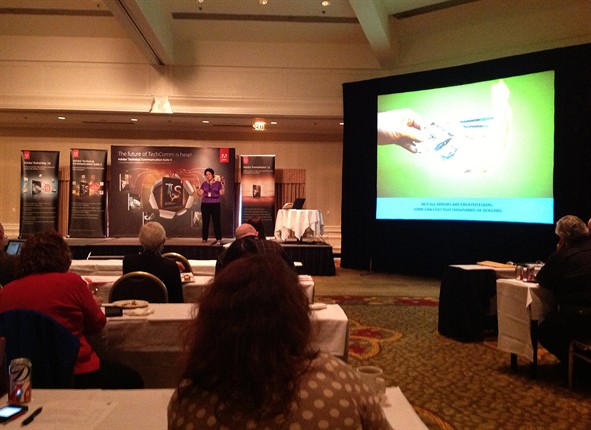 Val Swisher sharing the benefits of preparing content appropriately in order to save time and money on localization.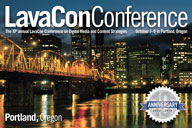 Speakers and topics
Speakers and Topics covered the fundamentals Content Strategists deal with daily, including:
Now, More than Ever, Why We Need to Create Structured Content
Scott Abel, The Content Wrangler
Developing a Technical Communication Content Strategy
Sarah O'Keefe, Founder, Scriptorium Publishing
Multi-screen Help Authoring: How to Deal with the Explosion in Device Sizes
Joe Welinske, President, WritersUA
Are you Global Ready?
Val Swisher, Founder, Content Rules
DITA Metrics
Mark Lewis, Content Strategist, DITA Educator at Quark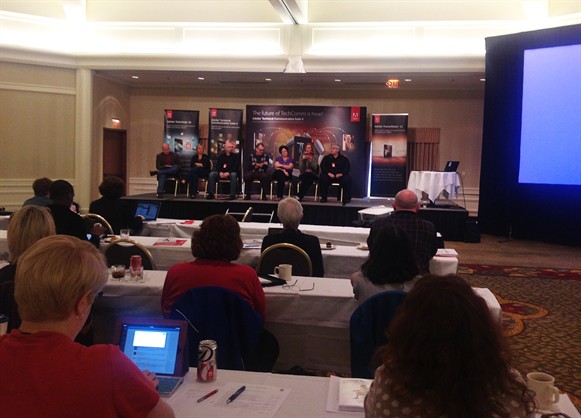 Adobe Day ended with a nice summary session panel discussion chaired by Scott Abel – talking about what's ahead. The panel included Joe Welinske, Beth Gerber, Bernard Aschwanden, Val Swisher, Joe Gollner, Joe Ganci and Sharon Burton.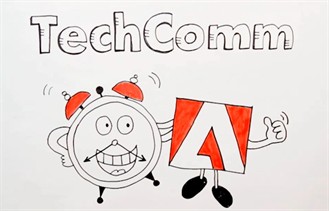 Adobe Technical Communication Suite 4
Adobe® Technical Communication Suite 4 includes the most powerful products for technical communications, (Adobe FrameMaker® 11, Adobe RoboHelp® 10, Adobe Illustrator® CS6, Adobe Captivate® 6, and Adobe Presenter 8). Tech Comm Suite provides a productive environment: a powerful, integrated toolkit with single-source authoring, rich multimedia integration, and multichannel, multiscreen HTML5 publishing capabilities.
Adobe Technical Communication Suite 4
Features:
Work faster with cross-product integration
Easily author and enrich XML/DITA content
Publish to multiple channels, formats, and screens using multiscreen HTML5
Increase enterprise productivity
Globalization Partners International has two nice case studies which demonstrate how Adobe® Technical Communication Suite helps clients save time and money in creating multilingual documentation:
ESi-GPI-Adobe Case Study
Comprehensive Web Application Localization including User Interface, Documentation and Online HELP.

Adobe/GPI FrameMaker DITA Case Study
Discover why GPI's DITA FrameMaker solution is ideal for multilingual publishing, especially in departments with a transient contractor workforce.
Localization World 2012 and Multilingual Content Strategy
Going on this week in Seattle is Localization World 2012.
It is nice to see the Content Strategy professionals and Localization Professionals are finally getting together. In fact, this years' Localization World has a complete Content Strategy track. Please check the program description for more information.
Sessions included topics like:
What Is Content Strategy?
Global Content Strategy
Transforming Your Global Content Strategy into Localized Content
Making the Move to Structured Content
Thinking Strategically about Intelligent Content on International Projects
Content Strategy for Mobile Devices
Think Mobile, Go Global: Writing Strategically for the Small Screen
As both of these disciplines know, it all begins with "content" in some form. If your English is poorly authored without a strategy, structure and quality control, then the challenges of translation/localization increase greatly. Success in implementing best practices for Localization starts with the earlier success of implementing best practices in devising an overall Content Strategy. The two disciplines are interconnected.