InDesign CC 2018: Font Filtering
Adobe recently released a new version of InDesign: InDesign CC 2018. In this new release, Adobe added new features to the Creative Cloud tools, which include adding borders to paragraphs, endnotes, the option to store the size and position of objects in an object style, the ability to store shared text assets in CC libraries and PDF accessibility enhancements. In this blog, I will focus on the font filtering improvements.
Font Classification and Font Similarity Filters
InDesign has incorporated new font filtering features in the character and control panel font menus. With InDesign CC 2017, we were able to filter by favorites and by Typekit fonts. But now, CC 2018 added two more filtering features allowing you to narrow down the results by filtering fonts by classification or similarity. Fonts closest in visual appearance to the font you're searching for appear on top of the search results. A status strip in the font menu will display the information about the applied filters.
Organize and Filter Fonts
You can quickly find the fonts you often use by selecting individual font families as favorites or selecting from recently used fonts that appear on top of the font list. Recently used and starred fonts are saved and can be accessed across InDesign sessions.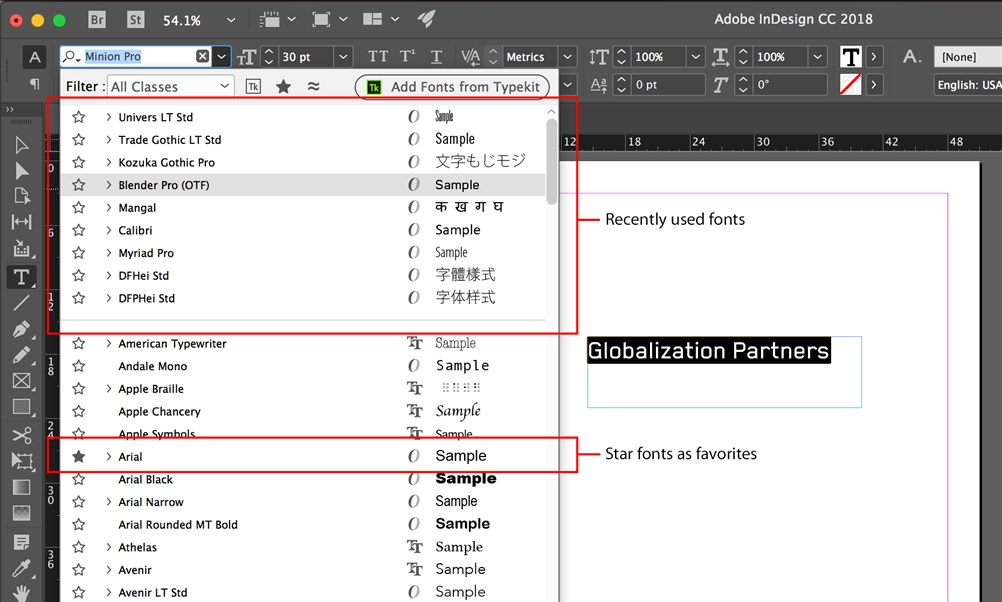 Font Similarity
When the font similarity filter is turned on, InDesign will search for and display fonts that are visually similar to the currently displayed font. It is worth noting that Illustrator CC and Photoshop CC have matching similarity filters and the results are very close to those you'll see in InDesign.
Font Classification
You can filter fonts in InDesign's font menus using a type classification filter. Typographers have devised various systems to classify fonts. The software for organizing the fonts in your system also uses these types of filters. Adobe picked eight of the most common categories for filtering fonts in InDesign CC:
Serif
Slab Serif
Sans Serif
Script
Blackletter
Monospace
Handwriting
Decorative
Conclusion
You can display your font options by selecting classification, Typekit fonts, favorite fonts or a combination of the filters. However, you cannot use the similar fonts filter with any other filters. I am really excited about these new InDesign CC 2018 features, especially for multilingual design projects, and I will be using them often.