Travel Planning in the New Digital World
The hospitality industry is one industry that is greatly influenced and affected by language and culture. But at the same time, the hospitality industry – which includes tourism, travel and hotels – is increasingly affected by technology. The industry needs to continually adapt to evolving technology and the changing consumer behaviors of its potential customers around the world who use technology to purchase services.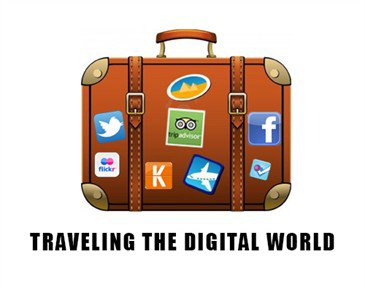 How are travelers using digital media and what do marketers need to know about their consumers' habits? How are marketers like you adapting your technology offerings (aps, websites) to the different regions, countries, cultures and languages?
Media Consumption in a Multi-Screen World
Today, the vast majority of media interaction happens online. Here are some interesting stats from Google to support this fact:
90% of all media interactions are screen based
Out of the total daily on-screen media consumption 38% occurs on smartphones
90% of those same consumers use multiple screens  in sequence to accomplish their goals
What are those goals?
81% use multiple devices to browse the Internet
67% shop online
46% use multiple devices to manage their finances
43% make travel plans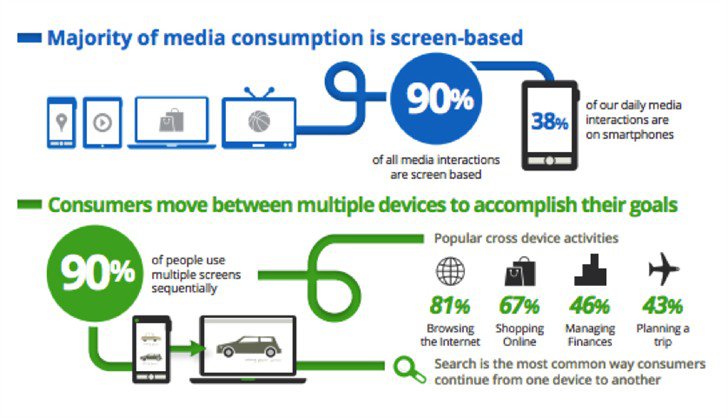 (Source: Google)
The Digital Traveler
How do travelers book their hotel rooms?
Today close to two thirds of travelers reserve their hotel rooms online — 62% of leisure travelers and 58% of business travelers, to be exact. The same holds true for comparison shopping when traveling: 64% of leisure travelers comparison shop most or all the time, while 57% of business travelers do the same. Interestingly, affluent travelers comparison shop the most with 77% of them comparison shopping frequently if not always.
The top ten sites used for hotel comparison shopping are: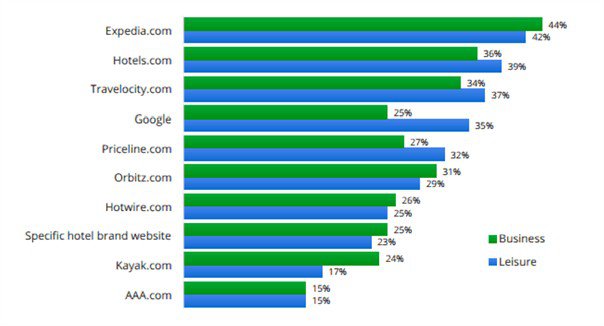 (Source: Google Travel Study, May 2012, Ipsos MediaCT)
An interesting caveat to note here about Google is Google's Hotel Finder that was introduced by Google in 2011. That service can help travelers find accommodations based on locale (destination) and a specific date while providing full hotel details on a map. And since we're talking about Google Hotel Finder, it would be a good idea to list your hotel on Google Places since Google Hotel finder relies quite heavily on it.
The Connected Traveler
Not too long ago it used to be a challenge and quite costly (if not downright impossible) to stay connected to the internet while traveling – especially internationally.  A lot has changed in a few short years. Social media along with smart phone technology, universal wireless services that cover most regions and locales, unlimited data plan services and lower roaming costs (if any) have made the digital landscape fertile ground for non-stop connectivity even when traveling. Not only do more than 87% of travelers do the majority of their travel planning online, but 70% of travelers remain quite active on social media websites even while traveling. This may not be too surprising, since almost half of all travelers have a mobile device that lets them log onto the Internet from virtually anywhere.
What does that mean for your travel site or hotel property?
Know your Target Market: Get to know your target audience and provide targeted content and post content based on relevance not just volume – it's not meant to be filler, it is meant to educate and peek interest.
Be Creative: Don't just list the basic features of your hotel and services. Provide context, insider tips, and information on local attractions, for example.
Be Social: Do a bit of research to find out what social media platforms your target audiences frequent and then make sure you are present when users are there. Know how to engage your visitors effectively and treat them as a great resource first and potential prospect second — not the other way around. That is what ultimately builds trust and brand loyalty.