Culture and E-Business in Brazil
Are you thinking of doing business in Brazil? Our translation agency, Globalization Partners International, has released the newly updated research report for the Brazil market on Website Globalization and e-Business along with accompanying infographic. The report covers a range of topics from language facts and cultural data to search engine marketing and website translation tips for Brazil.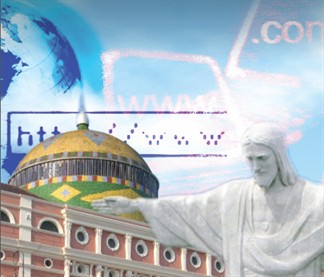 If you wish to be successful in marketing to the Brazilian marketplace there are many factors to consider. This blog post will provide highlights of our recent whitepaper report on understanding the nature of the Brazilian market and cultural values of Brazilian consumers to help you achieve the best results as you enter and do business in Brazil.
Facts about the Brazilian Market
Brazil is a federative republic consisting of 26 states and a federal district called Brasilia, which is the capital.
GDP $2.253 trillion (World Bank 2012)
GDP growth 2.2% (tradingeconomics.com 2012)
Population 200 Million (worldpopulationreview.com 2013)
Internet population 88 million (internetworldstats 2013)
According to official data from Brazilian Association of Startups, there are 2,835 startups in Brazil. Sao Paulo leads with 605 startups, followed by Minas Gerais with 181 and Rio de Janeiro with 125 companies. (startupbase.net)
23.3% of Brazilians use their phones to access the internet. As of mid-2013, Brazil was home to the largest mobile phone market in Latin America. According to Reuters, Brazil is the fifth largest smartphone market in the world. (Reuters, 2013)
The retail sector of Brazil is considered the largest in Latin America and has continued to expand rapidly since 2004. (eiu.com)
Culture Values in Brazil
Brazil has an extremely diverse mix of cultural values, heavily mixed by Portuguese, African and Native American culture. In the last two centuries the culture was also influenced by an influx of German, Italian, Spanish, Japanese and Arab immigration. Language and religion are dominated by Portuguese influences.
Brazil is ranked as high in "Traditional Values" and relatively balanced between "Survival" and "Self-Expression values" according to the cultural map of the world based on the World Values Survey.
Search Engine Optimization in Brazil
If you are considering any digital marketing (SEO) campaigns, it is important to understand search engine optimization in Brazil and the top search engines to focus on while targeting the Brazilian consumer.
Top search engines in Brazil:
Google (89.33%)
Bing (5.69%)
Ask (3.86%)
Yahoo (0.71%)
Social Media in Brazil
Understanding the social media landscape in Brazil is one of the most important components for online strategists looking to leverage these channels to the Brazilian consumer. The report provides the key insights and top social networks for Brazilian consumers.
Key insights from the digital landscape in Brazil:
Social Media sites capture the largest percentage of consumers' time in Brazil at 36 percent. Facebook has emerged as a strong leader in the category with nearly 44 million unique visitors in December 2012, up 22 percent vs. 2011. (Source: comScore Media Metrix)
Online video consumption in Brazil grew 18 percent in 2012. Google Sites (YouTube) remains the top video property, while VEVO ranks second. Facebook was one of the fastest-growing online video properties with a gain in its video-viewing audience of more than 400 percent. (Source: comScore Video Metrix)
Online Advertising is on the rise, with more than 789 billion display ad impressions delivered in 2012. Portals and Social Networking are the two largest content categories for delivery of these ads, representing a combined 45 percent of the market. Dafiti.com.br was the largest display advertiser in Brazil with more than 25 billion ad impressions in 2012. (Source: comScore Ad Metrix)
Top Social Media Networks in Brazil:
Facebook (68%)
Youtube (16.7%)
Ask.fm (1.86%)
Twitter (1.75%)
Culture and Online Shopping in Brazil
The following infographic provides several useful facts and insights about Brazil. The infographic contains a handy graphical sampling of what's inside the report.

Doing Online Business in Brazil
If you are planning to do business in Brazil, it is important to understand the needs of your target customers. You will always need to understand the consumer behavior, the language and the key insights about the market. Our updated research report for the Brazil market on Website Globalization and e-Business along with accompanying infographic covers a range of topics from language facts to website translation tips for Brazil.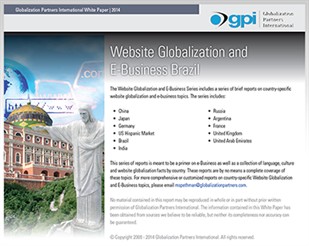 The Brazil country research report is 14+ pages and provides useful information and statistics about the country and local consumers and market. The newly updated report for 2014 is available in PDF format and is free to download at: Website Globalization and E-Business Series.
Looking to sell your goods or services in Brazil
If you are looking to expand into the Brazilian market and have a website localization project in the works, this reports is for you. First published in 2008 and newly updated for 2010, 2012, and 2014, the report contains tips and information on e-business, website translation and web consumers in Brazil. The report also has a nice link library with useful sites and resources for those wanting to do business in Brazil.