Culture and E-Business in the United Kingdom (UK)
The United Kingdom (UK) is a market full of consumers who have readily adapted to the online world and e-Commerce. Globalization Partners International has recently updated our country research reports. There are 11 in total, including a report on the UK. Each is full of relevant details to understand the local consumer, where they can be found online and how you can find them.
If you wish to be successful in marketing to the UK consumer, there are many factors to consider. This blog post will provide highlights of our recent whitepaper report on understanding the nature of the UK market and its cultural values to help you achieve the best results as you enter and do business in the United Kingdom.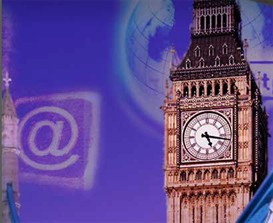 Facts about the United Kingdom
The United Kingdom has the 6th-largest national economy in the world and 3rd-largest in Europe measured by nominal GDP. (Source: Wikipedia)
According to IMRG, mobile commerce in UK grew by 254% between 2010 and 2011, and by a further 300% between 2011 and 2012.
17% of UK shoppers have made a purchase in response to a location-based advertisement.
The UK had the highest rate of online purchasing, with 82% of Internet users buying online.
On average, mobiles account for 31% of site traffic in the UK. (Source: Mobify)
69% of tablet owners make a purchase on their device every month. (Source: InMobi and Mobext)
25% of UK consumers have made a purchase using their mobile. (Source: Econsultancy)
In 2013, 36 million adults (73%) in Great Britain accessed the Internet every day.
The online sector has seen significant growth, doubling its share of the market in the past five years. By October 2013, it accounted for around 10% of all retail sales in Britain with an average weekly spend of just over £650m. (Source: ONS)
The IMRG Capgemini eRetail Sales Index showed that in December online sales soared by 17.5% in the same month a year before. Overall in 2012, £78bn was spent at online retailers, around a fifth of all retail sales.
Culture Values in the UK
The UK shares some of the common symbols and traditions of other western cultures, yet still maintains its own unique, rich culture. At a macro-level, the UK culture can be described using five cultural values based on the work of Professor Geert Hofstede.
Hofstede demonstrated that there are national and regional cultural groupings that affect the behavior of societies and organizations that are very persistent across time. Hofstede's research showed that cultural values like Individualism-Collectivism, Power Distance, Masculinity-Femininity, High-Low Context and Uncertainty Avoidance can be used to categorize various national cultures.
Search Engine Optimization in UK
If you are considering any digital marketing (SEO) campaigns, it is important to understand search engine optimization in the UK and the top search engines to focus on while targeting the UK consumer.
Top Search Engines in the UK
Google (90.47%)
Bing (4.94%)
Yahoo (3.05%)
Ask Jeeves (0.44%)
Social Media in the UK
Since social media is influencing all online communications, it is no longer enough just to localize your content. In today's dynamic, social networking charged environment, you need to adapt your communication to match your target audience in UK to make sure that your message and intent is successfully communicated.
Key Insights from the Digital Landscape for UK:
Facebook remains the leading social network in the UK, capturing the greatest number of unique visitors. However, there are some rising stars on the horizon – Tumblr, Instagram, Pinterest and Goodreads – that have all witnessed strong growth over the year across both PC and mobile. (Source: ComScore)
64% of UK mobile users owned a smartphone, while 82% of new phones acquired in December 2012 were smartphones. The rapid adoption of internet-enabled devices is creating a more fragmented digital media landscape. (Source: ComScore MobiLens)
The UK online video audience grew 8 percent in the past year, whilst mobile video audience grew 262 percent. (Source: ComScore)
Top Social Media Networks in UK
Facebook (60%)
Twitter (19.27%)
StumbleUpon (6.91%)
Reddit (4.02%)
Pinterest (3.95%)
UK Culture and Online Shopping
The following infographic provides several useful facts and insights about the UK. The infographic contains a handy graphical sampling of what's inside the report.

Doing Online Business in the UK
If you are planning to do business in the United Kingdom, it is important to understand the needs of your target customers. You will always need to understand the consumer behavior, the language and the key insights about the market. Our updated research report for the Brazil market on Website Globalization and e-Business along with accompanying infographic covers a range of topics from language facts to website translation tips for the UK.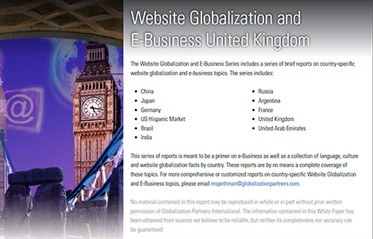 The UK country research report is 14+ pages and provides useful information and statistics about the country and local consumers and market. The newly updated report for 2014 is available in PDF format and is free to download at: Website Globalization and E-Business Series.
Looking to sell your goods or services in the United Kingdom?
If you are looking to expand into the UK market and have a website localization project in the works, this reports is for you. First published in 2008 and newly updated for 2010, 2012, and 2014, the report contains tips and information on e-business, website translation and web consumers in the UK. The report also has a nice link library with useful sites and resources for those wanting to do business in the UK.