The Rise of E-Commerce in China
Long gone are the days of having to run down to your neighborhood market in order to buy a new pair of shoes, a book, or even food.  They have been replaced by turning on your computer or mobile device, finding your desired product and completing the transaction all in a few minutes with just a few clicks.  Online shopping offers certain conveniences such as low prices, broader selections, and delivery to your front door.  Due to the expansion of globalization and greater access to the internet, the world is becoming smaller by the day, making the barriers for ecommerce markets easier to overcome.  Nowhere is that more apparent than in China.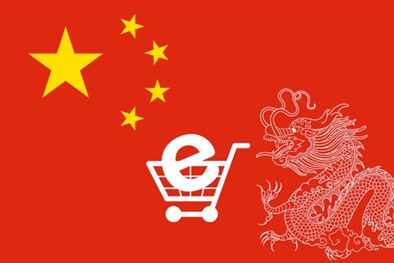 China may have been slower than the United States and Europe to begin entering the ecommerce marketplace, but they are rapidly closing the gap.  According to an article from Emarketer (http://www.emarketer.com), by the end of 2014, global business to consumer ecommerce sales are expected to hit $1.5 trillion. The Asia-Pacific region is expected to have ecommerce sales reaching $525 billion, outspending North America in ecommerce for the first time, making it the largest regional ecommerce market in the world.  Lastly, by the end of 2014, the Asia-Pacific region will claim more than 46% of digital buyers worldwide, and these users will only account for 16.9% of the region's population.
According to an article by KPMG (http://www.kpmg.com), China's economy is transitioning from an investment-heavy growth model toward a more consumption-driven model.  KPMG's studies support Emarketer's sales predictions through 2014, and also suggest that by 2020, China's ecommerce market is forecasted to be larger than those of the US, Britain, Japan, Germany, and France combined. Alibaba founder Jack Ma explains it as, "in other countries, ecommerce is a way to shop, in China, it is a lifestyle." Earlier this year Alibaba went public with the world's biggest IPO raising $25 billion.
Mary Chong, KPMG Partner and Head of ecommerce and payments for China lists four drivers of ecommerce growth in China:
Ecommerce platforms
Social media platforms
Digital platforms
Mobile devices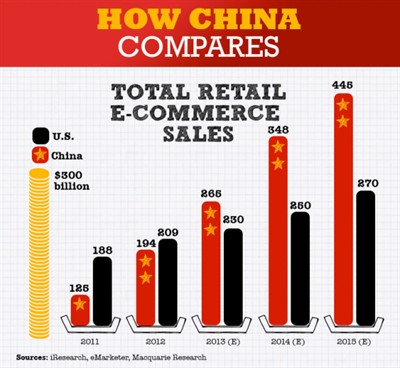 Consumer spending in China via ecommerce tends to favor: clothing and accessories, airline tickets, books, tours and hotels and sporting goods.  But, the Chinese ecommerce market isn't just for large corporations or for companies in China.  As far away as Montana, USA one of the smallest States in the USA population-wise, ran a trade mission to China.  Montana State Governor Steve Bullock organized a trade mission to China.  Former Montana Senator Max Baucus is the current US Ambassador to China, and he assisted the trade mission in recognizing the opportunities China presents.  The trade mission was comprised of individuals from Montana resorts, bourbon distilleries, beef growers and many more.  China represents a good market for companies in the agriculture and manufacturing sectors.
The United Nations has forecasted there to be 3 billion internet users by the end of 2014, 40% of the world's population, and the Asia-Pacific region has the largest population of internet users.  As stated above, the Asia-Pacific's digital users only account for 16.9% of the region's population.
Now is an exceptional time to break into the region's ecommerce market, as the users will continue to increase resulting in billions of dollars of spending.  Companies planning on selling to China and other Asian markets will need to translate "localize" their websites, product catalogs, contracts and other content in order to effectively engage these consumers.  Not to mention companies will need to conduct some form of search engine marketing so consumers in China can find them on the web. Localization services make conducting business in marketplaces such as China a real possibility for any company.  Globalization has shattered many traditional barriers to doing business with markets such as China.  Now if you address the language and technology requirements to engage the Chinese consumer, the door is wide open.
Resources:
http://www.emarketer.com/Article/Global-B2C-Ecommerce-Sales-Hit-15-Trillion-This-Year-Driven-by-Growth-Emerging-Markets/1010575
http://www.un.org/apps/news/story.asp?NewID=47729#.VCBSv7Xvt1E
http://www.kpmg.com/CN/en/IssuesAndInsights/ArticlesPublications/Newsletters/China-360/Documents/China-360-Issue15-201401-E-commerce-in-China.pdf
http://www.krtv.com/news/montana-trade-mission-talks-to-chinese-investors/