From Algeria to Zimbabwe – eCommerce on the African Continent
I recently attended one of the premier global events in the eCommerce space, the Magento Imagine Conference.  The conference hosted attendees from 40 countries, and with my initial impressions still fresh, I started researching eCommerce's global footprint more closely.
I have researched this topic in the past as part of GPI's global eCommerce blog series, but this time, I focused on one of the most under-represented and under-rated continents, Africa.
Ever heard of Jumia? If not, you are probably not alone.  Yet, this emerging eCommerce leader, headquartered in Lagos, Nigeria, was started in a garage three years ago and today operates in nine African countries, attracting more than 700,000 weekly visitors. According to an article I recently read on Forbes.com, $500 million eCommerce platforms are emerging in the Middle East and Africa so I was eager to find out who the big players are, Jumia is one of them, and which African countries have the most flourishing eCommerce markets.
Internet Penetration in Africa
It's no secret that internet penetration is rapidly increasing across Africa.  As a result, eCommerce is becoming a major contributing factor to Africa's growing economy, even though it is still lagging far behind all other major regions, including the Middle East.
The below graphic shows internet penetration across African countries.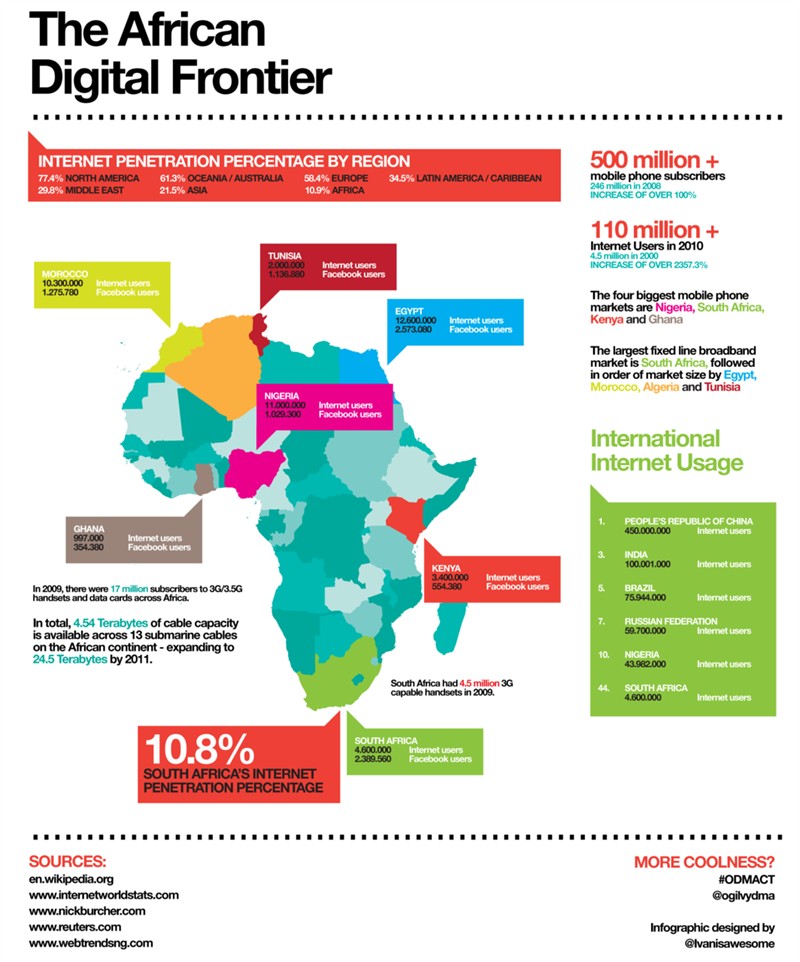 Mobile Internet and eCommerce
Mobile internet accessibility and eCommerce go hand in hand. Mobile internet traffic in Africa has steadily increased in the last few years and is projected to continue to rise as the graphic below illustrates: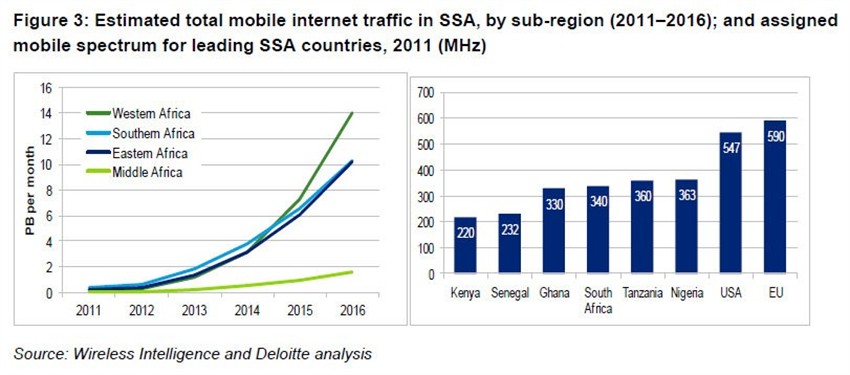 Who are Africa's eCommerce Leaders?
Based on an evaluation by AIG, it was possible to identify the industry leaders of eCommerce and technology growth in the region centered on field surveys, independent studies and research. So let's take a look at the  top seven countries in Africa with the highest iGDP, an indicator of the impact the internet has on a country's GDP.
Senegal
Senegal leads with an iGDP of 3.3%. This initially surprised me, but endeavors like Jjiguene Tech Hub, which assists and prepares women in Senegal to participate in IT driven businesses, are backed by many international investors, including Microsoft, and this has given Senegal a seal of approval.
Kenya
A close second is Kenya with an iGDP of 2.9%. Kenya's previous president spearheaded a $14.5bn project in 2014 to build Africa's Silicon Savannah.  This project will help support and guide African tech businesses, similar to Silicon Valley in the United States.
Morocco
King Mohammed VI, the leader of this North African country, is seeking to strategically position his country as the financial center of Africa.  Morocco's strides toward this goal include Casablanca Finance City, Casablanca Technopark and a current iGDP of 2.3%.
Mozambique
Mozambique's thriving real estate, hospitality and agricultural industries have helped position Mozambique as one of the top five African economies. With an iGDP of 1.6% and rapid growth in the IT sector, Mozambique's economy looks quite rosy.
Nigeria
Nigeria is considered Africa's eCommerce hub with many popular eCommerce sites, particularly fashion-oriented ones. With an iGDP of 1.4%, Nigeria has set up multiple technology hubs and accelerators to help drive IT businesses.
South Africa
South Africa closely trails Nigeria with an iGDP of 1.4% and although it has several tech hubs and is one of the most economically developed African countries, it needs to drive growth by increasing its investment in the IT sector.
Ghana
Ghana rounds out the list of the top seven countries with an iGDP of 1.1%. The outlook for Ghana should be optimistic as a recent investment of $5.2bn for building an IT hub near its capital, Accra, seems to show its sincere commitment to that particular industry.
Conclusion
As Africa becomes the second fastest growing region, globally, other countries to watch out for include Cameroon, Egypt and Tanzania. Upon further observation, it is apparent that Africa is attracting more and more global investors spanning a multitude of industries and sectors while strengthening its potential and solidifying its increased impact on the global eCommerce landscape.
Resources on Translation Service for eCommerce Companies
Globalization Partners International (GPI) has provided language translation services to eCommerce clients worldwide. In addition, GPI has developed a user-friendly Translation Services Portal that makes it extremely easy for non-technical users in the eCommerce arena to manage website, catalog and other eCommerce content translations projects.
To learn more, feel free to check out the below resources: