Magento Imagine 2015: We Imagined, Magento Delivered!
Globalization Partners International (GPI) recently attended the Magento Imagine 2015 Conference at the Wynn in Las Vegas, Nevada. This impressive event catered to online retailers and developers.  It provided plenty of opportunities to learn from some of the industry's most gifted individuals and dynamic organizations in the eCommerce space, ranging from widely recognized global brands to aspiring start-ups.
The theme of this year's event was, 'Imagine Commerce Unbound' and I was certainly left with the feeling that eCommerce is an ecosystem, a truly global community, that allows merchants and brands, regardless of their size, to bring their ideas, innovations, products and services to a worldwide marketplace. What sounded utopian a few short decades ago is now a part of the global online experience.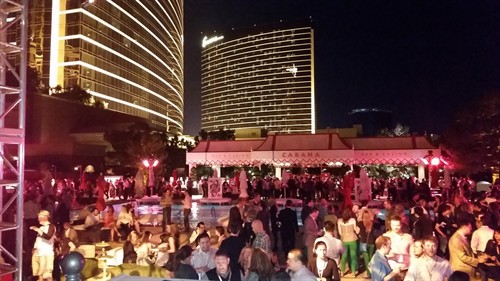 Day One
Day one began with several developer sessions and a Commerce Conversation session that my colleague attended and found to be very interesting. It allowed for small groups to sit together, introduce themselves and discuss a number of different topics based on talking points provided by the moderator of that particular session. I attended a Commerce Conversation session on day two of the event and found it equally stimulating and refreshing. Each participant gained insight into some of the other attendees' challenges and opportunities, based on the business they were in, by discussing in an intimate group setting. What a great idea!
Day one ended with the Opening Night Networking Event on Wynn's Sunset Terrace and the name did the event justice.  The terrace and its surroundings provided the perfect back-drop for the night as the sun was setting, the perfectly manicured gardens and beautiful architecture surrounding the pool, which was at the center of the reception, only added to the magical ambiance.
Day Two
Day two started with a bang!  Keynote speaker Jamie Clark, a self-described adventurer who has climbed the Seven Summits and has conquered Mt. Everest twice, gave a dynamic yet, very endearing and intimate peek into his humbling and unconventional journey from professional 'adventurer' to successful entrepreneur and CEO and Co-Founder of LiveOutThere.com. The idea that despite the difficulty we have detaching ourselves from virtual non-stop connectivity, we must not forget to connect with nature and the outdoors, really resonated with me personally as someone that works and spends a lot of time in a global, yet virtual environment.
The second day continued with several high-caliber presentations and breakout sessions, including several customer success stories and some really excellent sessions on Strategies & Best Practices and Marketing & Business.
Session Highlights
Silk Road to China: A Taobao and JD Case Study by Dong Xu, CEO at SILK, provided an excellent overview of all the necessary steps and lessons learned when deploying Magento infrastructure in order to sell in one of the world's fastest growing eCommerce economies. Not surprisingly, Localization Requirements were highlighted as necessary steps needed to fully and adequately prepare for selling in China.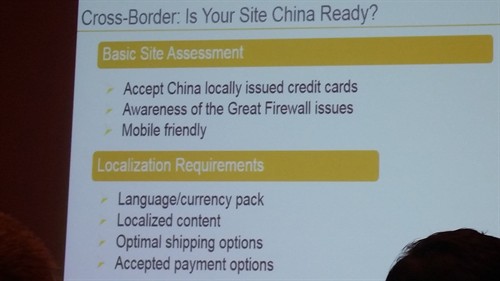 Just as interesting, was the fact that eCommerce in China, similar to other promising eCommerce markets, is increasing as mobile penetration is increasing: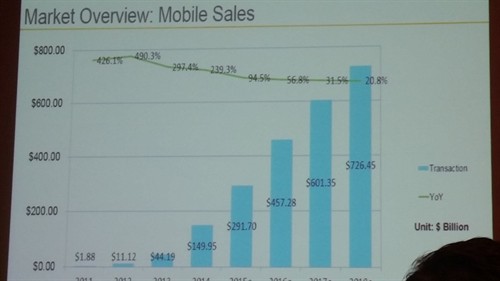 Agile Commerce: Successfully Scaling the Multi-Brand & Multi-Geography Landscape by Chris Fuller, VP, Technology, Optaros, which was featured under the Customer Success Stories track, provided great insight and tips on increasing revenue by unlocking the potential of multi-brand, multi-geography eCommerce rollouts, such as Nestle and Optaros. Again, the need for localization and globalization was highlighted as part of an integrated strategy in order to "accelerate speed-to-market while optimizing cost of ownership" as Optaros put it.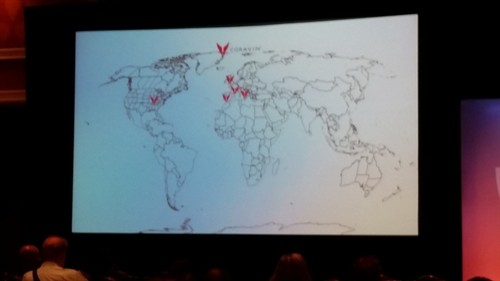 Day two ended with what Magento Imagine organizers listed on the agenda as Legendary Imagine Evening Event. It was held at XS Nightclub at the Encore and according to some attendees I spoke with the next morning, it must have indeed been legendary.
Final Day
One of those people in attendance at this legendary party was no other than Jamie Clarke, who started us off in the morning with another highly animated, yet slightly hung-over morning routine – absolutely brilliant!
The afternoon was reserved for the Magento Partner Summit but two morning sessions I found of particular interest were:
Scaling for Rapid Growth: Kendra Scott Case Study with Tria Foster, VP, eCommerce, Kendra Scott, which offered great advice on leveraging your partner's expertise when selecting technology solutions for your enterprise to guarantee the best possible online experience for your customer base.
Managing Google AdWords Campaigns for Profit, Explicitly for Retailers by Denis Coombes, Director, ROI Revolutions Inc., who in 30 minutes provided a road map to increasing bottom line profits through effective global PPC campaigns.
A particular highlight of the show was one of the most inspiring keynotes delivered by Steve Wynn who had great insight to share regarding the ultimate customer experience.  His mantra was as simple as it was compelling:
People make people happy
Make your employee a hero and celebrate each of their successes
Leadership is about making ordinary people perform in extraordinary ways
Conclusion
Magento's Imagine 2015 Conference was an informative, engaging and inspiring event. The topics and speakers provided invaluable insight and ideas for everyone in the eCommerce space. The future for eCommerce is very exciting and having the opportunity to collaborate and communicate with industry peers and leaders made the event hugely successful, and I can't wait for next year!
For further information about Magento Imagine please see the event link: https://imagine2015.magento.com/
Further Information on Multilingual CMS and Translation Resources
Globalization Partners International (GPI) offers comprehensive translation services ranging from initial glossary development and copywriting to eCommerce localization and website translation services. You may also benefit from our resources and blogs: