How To: Translating Your eLearning and Training Courses
Localizing marketing materials and franchising models is very common as companies enter into markets around the globe. However, when expanding into foreign territories, translation shouldn't be limited to marketing materials. Translating your eLearning and training courses is necessary to develop your company's human resources.
Your labor force should always be a main priority when promoting your business abroad. Success can only be attained through a well-trained team. Translating your training manuals and eLearning modules will be an important first step in creating an effective team.
Avoid Miscommunication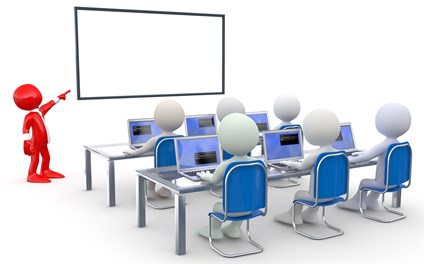 Identifying linguistic variations early in the translation process can go along way in avoiding miscommunication with your team. Languages vary across regions and the words people use to express the same message can be very different. The localization process includes researching how the people that speak your target language communicate. Conveying your message in a way your team members understand and relate to will help diminish miscommunication.
A few of the ways to avoid miscommunications in your training manuals or eLearning materials include:
Limit use of jargons, colloquial expressions and metaphors.
Avoid acronyms/abbreviations.
Use brief, concise descriptions.
Add bullets and numbers for more organized and readable content.
Interactive Training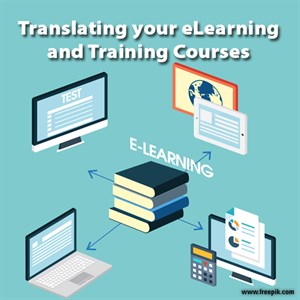 Interactive training materials can create a more productive, user-friendly training experience, but these types of training tools can have added challenges for translation.
Here are some tips to gain the trainee's full attention and understanding.
Visuals are everything, but not all graphics or images have the same interpretations worldwide. Be mindful of diverse cultures and traditions to avoid misinterpretations once translated to different languages.
Use a title bar underneath a graphic or image for the description, rather than embedding the text. Removing embedded text is not only time consuming, but adds additional cost to your translation fees.
For audio and video content, an original script must always be available to reduce the time consumed in research and transitions. Subtitles to audio and video components are also used, but it is more advisable for your trainees to follow an audio dubbed training module so they don't have to read subtitles to understand the meaning of the audio and video components.
Choose a simple layout that is not distracting and easily delivers the message and instructions.
Your files must always be editable and in a format readable to your translators. Whether it's a raw file or Flash converted file, it is advisable to always give your processed and original files to your translators to have the translation work effectively.
Summary
Creating multilingual eLearning programs will help your teams understand your processes and procedures and help your company become successful in your global markets. Your people are the most important component of your company. Translating your training and eLearning materials will lead to a better work force and develop better communication across all of your company's employees.
Educational and eLearning Content Localization and Translation Services
Globalization Partners International (GPI), a global translation agency, provides comprehensive localization and translation services for a wide range of educational content for companies, schools and institutes.  We have supported the global training and eLearning initiatives at some of the world's most recognizable brands in online recruiting, hotel and hospitality, security, consulting and finance.  Our educational content localization teams will help you localize and translate your eBooks, courses, training content, multimedia and presentations in over 100 languages, from Arabic to Spanish.