First of its Kind Global Digital Marketing and Localization Program to be Launched in January 2016
The University of North Carolina and the Localization Institute has launched one the world's first Certificate & Certification in Global Digital Marketing & Localization.
This online certificate/certification combines studies in worldwide digital marketing strategies with the art and science of content localization.
Global Digital Marketing and Localization Certification
The program is the brainchild of Dr. Nitish Singh, Assoc. Professor Int. Business at The Boeing Institute of International Business, St. Louis University and Ulrich O. Henes, President of The Localization Institute.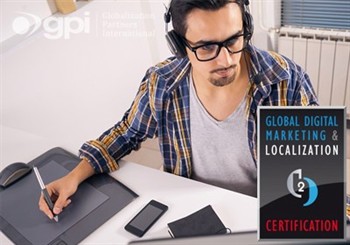 Students can earn the world's first certificate and certification which combines digital media marketing with localization. Estimated time for completion for the online self-paced courses is 3-6 months with almost 40 hours of online training alone.
Globalization Partners International is a proud sponsor of the program and looks forward to helping students, professionals and GPI's own staff successfully complete the program!
The program offers classes covering a wide range of digital marketing and localization topics including:
Global Digital Media Environment : Exploring Cultural, Legal and Logistical Issues
Global Digital Internationalization: Challenges and Approaches to Succeed
Global Digital Expansion: Practical Tips on Market Entry
Global Digital Marketing Segmentation: Tools and Techniques
Global CRM Strategies: Marketing Automation and Implementation
Global Digital Media Trends: Open Innovation, Social Computing & Others.
Effectively Using Global Social Media: Tips and Techniques
Global Social Media Usage & Localization – Insights from Around the World
Global Social Media Usage Models-1: Creating Dialogue and Facilitating Transactions
Global Social Media Usage Models-2: Managing Customer mood and reviews online
Content Marketing Ideas-1: Storytelling & Blog Management
Content Marketing Approaches-2: Content Marketing via Facebook, LinkedIn, Pinterest etc.
Global Search Engine Optimization-1: Leveraging Keywords
Global Search Engine Optimization -2: Linking, Mobile and Social Media Integration
Enhancing Searchability of International Sites for Global Search Engines
Enhancing Searchability of International Site via Global Navigation techniques
Paid Search Marketing & Measurement – Key Strategies & Concepts
Standardizing or Localizing Digital Media – Strategic Insights
Culture & Global Digital Marketing: Avoiding Blunders related to Symbols, Colors & Values
Culturally customizing Digital Media Content – A Practical Cultural Customization Tool-kit
Dilemmas & Strategies for Localizing Digital Media – Finding the Right Strategies
Writing Content for Global Digital Media – Strategies for Effective Global content Writing
Localization Concepts & Foundations: Learn what it entails and how to localize
Internationalization (118n) Concepts and Foundations: Cost Saving Strategies
Terminology Management & Translation Memory for Global Content Management
Localization Workflow Management: Practical Insights for Efficiency Gains
Localization Projects and Automation Management: Tools and Techniques
To learn more and enroll, please visit Certificate & Certification in Global Digital Marketing & Localization.