Magento Imagine 2016: Show Recap
Globalization Partners International once again had the pleasure of attending Magento's Imagine 2016 at the Wynn in Las Vegas. It was a great event with fantastic sessions, high-caliber presenters, opportunities to see several of our clients and partners and meet part of the Magento team.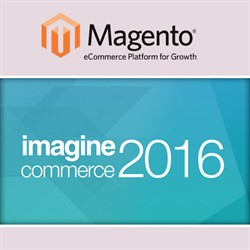 Magento, a leading eCommerce platform, provides digital commerce, order management and industry solutions to its global customer base.
This year's big announcements featured Magento Enterprise Cloud Edition and Magento Enterprise 2.1 in addition to the launch of the Magento Marketplace. So indeed, exciting news to share with the global Magento community and ecosystem. This year's event offered a great balance of business and design/development sessions which provided plenty of opportunities to gain and share insights from development and sales.
The pre-conference welcome reception Sunday night took place at the Wynn's beautiful Sunset Terrace followed by the main event on Tuesday night at the spectacular Encore Beach Club; Cuban music and food included!
Throughout the three day event, Imagine provided a great opportunity to network and meet new partners and end clients, and it was particularly gratifying to see how truly global this event continues to be year after year with more than 2,500 attendees from 45+ countries this year alone.
I found the Commerce Conversations sessions of particular interest. These sessions allowed attendees to brainstorm, exchange ideas and figure out solutions to common eCommerce challenges through networking and collaboration. Several questions arose focusing on international business expansion and global eCommerce best practices, from selecting the right language and locale when reaching out to your international client base to selecting the right sub-directories or sub-domains for your global language sites.
One of the absolute highlights of the event was undoubtedly Magic Johnson's keynote on Tuesday night.  Magic's charismatic persona and infectious energy coupled with stories ranging from his childhood in Michigan to his on-court rivalry with Larry Bird hit a cord with everyone in the audience. His motto was as simple as it was fitting for this event's theme: to be successful and build and keep growing your brand, listen to what your customer wants and then consistently over-deliver!
Some other session highlights from the event:
Merchant Panel: CX Masters The Truth Behind the Myth –  Nicole Gardner, COO, Dormify, Jonny Stewart, Head of eCommerce, ELEMIS, Tink Taylor, Founder & President, Dotmailer
Winning Solutions – Bryan Beck, SVP eCommerce, Guidance and Jeanie Peterson, Co-Founder, SOL Lingerie
Customer Success Stories – Delivering the Goods: Revolutionizing the Customer Experience – Michael Harvey, COO, Corra
Customer Success Stories: Mastering Omnichannel Retailing – Klan Gould, Founder & CEO, AOE, Kai Schmidhuber, SVP of Multichannel, Frapport
Today's Buyer Journey: The Good, the Bad & the Ugly – Erika Jollly Brookes, CMO, Springbot, Inc.
We look forward to seeing you again at next year's event April 3-5 at the Wynn Las Vegas!
More Resources on our Magento Translation Connector and Website Translation
GPI's Magento Web CMS Connector is a plug-in that can be installed on a client's server and allows users to send select pages or blocks of content through for translation. This process also communicates with GPI's Translation Portal allowing for a more integrated and streamlined translation process.
Connector Benefits:
Easy integration with Magento CMS Desktop
Enable seamless content translation capabilities all within the Magento CMS Desktop
Receive quote/project updates
Manage any number of language sites with a few clicks
Simplifies import/export process for content translation workflows
24/7 secure access for your global teams to collaborate and track translation projects via the GPI Translation Portal
Dashboard to view status reports, schedules and project task lists