Eid al-Fitr 2016 will begin on Wednesday, July 6th, coinciding with the new moon. The beginning of the Eid holiday can only be confirmed based on the sightings of the new moon each year, per the Muslim traditions. Eid marks the end of the Muslim holy month of Ramadan.
It is dependent on the lunar calendar, which means certain regions and countries will observe and celebrate it at different times, depending on geographic location.
During Ramadan, people fast from dawn to sunset, and Eid al-Fitr, known in Arabic as "festival of breaking the fast", is the first daylight meal following the holy month. People are dressed in clean, usually new, clothes and houses are decorated. It is forbidden to fast during this holiday in Islamic practices, so families and friends get together for feasts and celebration.
In consideration of the poor, many Muslims also celebrate by donating food to those in need.
During the festivities and the morning prayers, Muslims greet each other in Arabic using the words "Eid Mubarak", which roughly translates to "blessed holiday."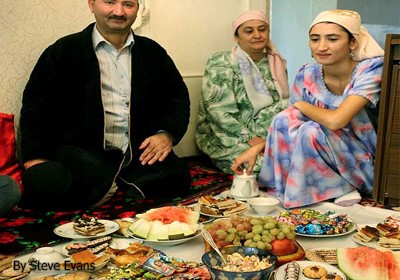 How is Eid al-Fitr Celebrated?
Eid al-Fitr is an important religious holiday celebrated by Muslims worldwide. It is also the first day of Shawwal. People celebrate by donating to charities, visiting various family and friends, giving gifts and making phone calls to loved ones.
The celebration starts after the Eid prayer and traditionally continues for three days, however this varies in different countries. It is an official holiday in all Muslim-majority countries.
The first day of Eid is the biggest day of celebration and it's common for Muslims to gather in outdoor locations and share well-wishes for the holiday.
Eid al-Fitr across the World
Eid al-Fitr is a Muslim holiday and therefore predominant in the Muslim-majority regions, however, Eid is recognized world-wide and is celebrated in many multicultural cities.
In New York City, the Empire State Building is lit green, honoring the dome atop the Masjid in Saudi Arabia's Medina. An open air market, or Souk, is also usually present in London's Trafalgar Square, featuring food stalls, music performances and henna. An "Eid Extravaganza" is held in Dubai where a variety of concerts, fireworks, ballet performances, family entertainment, screenings of Bollywood films and circus shows are displayed.
According to Al Jazeera the holiday schedules that have been announced so far are:
Saudi Arabia: 11-day Eid holiday, from June 30 until July 10.
Qatar: 11-day Eid holiday, from July 3 until July 11, including the July 1-2 weekend.
UAE and Bangladesh: Nine-day Eid holiday, from July 1 until July 9.
Oman: Five-day Eid holiday, from July 5 until July 9.
Pakistan: Four-day Eid holiday, from July 5 until July 8.
Turkey: Nine-day Eid holiday, from July 2 until July 10.
Eid Mubarak

from all of us at GPI!