Translating Arabic Speaking Countries: Qatar
Qatar is located on the northeastern coast of the Arabian Peninsula. It is bordered by land with Saudi Arabia and the rest of the territory is surrounded by the Persian Gulf. Nearby countries are Bahrain, UAE and Iran.
In this blog, I will cover some brief facts about Qatar for anyone traveling or doing business there.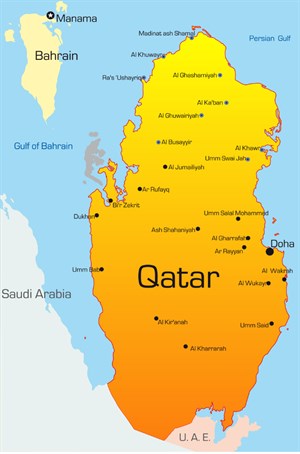 Qatari Demographics
Qatar is officially called the State of Qatar.
The capital city is Doha.
The total area of Qatar is 11,586 km2.
The population is 2.5 million (2016).
The currency is Qatari Riyal.
Qatari Languages
The official language is Arabic, with a local Qatari dialect.
Arabic spoken in Qatar is also called Gulf Arabic or Khaliji.
Other languages spoken in Qatar include: English, Farsi, Urdu, Malayalam, Pashto and Nepali.
Qatari Culture
The official religion is Islam.
Traditional Bedouin culture has influenced Qatari culture.
People are expected to dress in a way appropriate to the Islamic culture way, but it is not mandatory for ladies to wear Abaya or Hijab. Woman should cover shoulders, upper arms and knees.
The official law that is followed in Qatar is Sharia law.
Most of the marriages are arranged. Marriages are allowed between Gulf Arabs, but Qatari would need to get official permission to get married with non-Gulf citizens.
Qatari Consumers
Qatari consumers have some of the highest incomes in the world but they must deal with a high and growing cost of living.
Nearly 85% of the population are expats, which influences the products offered in retail stores.
Qatar's GDP, per capita, is $75,117.36 USD (2015).
Petroleum and liquefied natural gas account for more than 70% of total government revenue, more than 60% of total government revenue, 60% of GDP and 85% of export earnings.
Qatar's Future
Qatar is one of the most developed countries in the Gulf.
It is one of the richest countries in the world.
It is very rich with oil and gas, and the main revenue of the government comes from the energy sector.
Tourism is a developing sector in Qatar and they are aiming to increase capacity of the hotels.
Summary
Qatar is a nice place to visit and to reside, as it is relatively safe and comfortable. Business is continuing to grow and expand in many sectors, so it presents an opportunity for development and investment.
English is widely spoken so speaking Arabic would be a plus, but not necessary. However, it is necessary to translate all business and marketing materials into Arabic to get more opportunities and make your partners comfortable by reading in their mother tongue and show your respect.